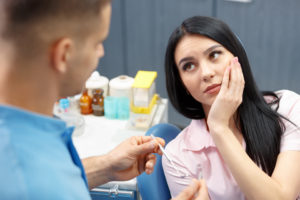 The weekend sporting match just went from fun to painful. You forgot to wear your mouthguard, your front tooth is chipped, and your lip is split. The situation doesn't seem serious enough to go to an emergency room for help, but you're in a lot of pain and waiting until your dentist can fit you in next week doesn't seem ideal either. What do you do? Call your emergency dentist in The Colony. At Ridgepointe Dental, our emergency dentist can usually see people right away when they need urgent care. We always have someone available outside of regular office hours to field your calls, walk you through at-home first aid and pain management, and help you repair your smile's full form and function.

When You Need Emergency Dental Care
Many patients forego calling our office because they don't think their situation "counts" as a dental emergency, but whether or not we need to see you immediately, it's important that we start work repairing your smile as soon as possible. Some of the emergency dentistry cases we see most often include:
Broken teeth or dental restorations
Lost teeth or dental restorations
Broken or bent partial and full dentures
Soft tissue lacerations
Severe toothache or dental sensitivity
Item lodged between teeth
What to Expect During Emergency Dentistry Appointments
When you visit our office during an emergency, we will start by carefully examining your smile and taking steps to relieve pain or discomfort. Once you are more comfortable and we understand your circumstances, we will work with you to begin planning for restoration right away. Our goal is to quickly and comfortably restore the full health, function, and appearance of your smile. Before you reach our office, you can take a few steps to ensure your comfort and safety, including:
Clean your mouth out with cool water
Collect any broken pieces of tooth or knocked out teeth
Whenever possible, replace a knocked out tooth in the vacated socket
Use ice to slow bleeding, reduce swelling, and relieve pain
Take over the counter pain relievers as directed, but don't apply them directly to your damaged tooth
Meet Dr. Amos
Your emergency dentist in The Colony, Austin Amos, DDS, JD, offers same day dental appointments whenever possible for those patients in need of urgent dental care. If you or a loved one needs our help, don't wait. Contact us immediately. Dr. Amos or one of his caring dentistry team members will walk you through at-home care over the phone and we'll also be happy to answer questions and schedule an appointment for you to come see us as soon as possible to begin repairing your smile.