Dental Implants – The Colony, TX
Permanent, Natural-Looking Replacement Teeth
These days, you have multiple options available for replacing missing teeth. Modern dentures and dental bridges can look extremely lifelike and allow you to smile brightly, but they tend to break down after a few years, and they don't feel as natural as your original teeth. Dental implants, however, solve both of these problems. By rebuilding a lost tooth from the root up through the crown, dental implants in The Colony are the next best thing to your real pearly whites. Give us a call today to find out Dr. Amos and the rest of our team at Ridgepointe Dental can help you enjoy a complete smile again!
Why Choose Ridgepointe Dental for Dental Implants?
Partnered with Trusted Local Dental Implant Specialists
Friendly, Relaxing Dental Office Atmosphere
Flexible, Low-to-No Interest Financing Available
What Are Dental Implants?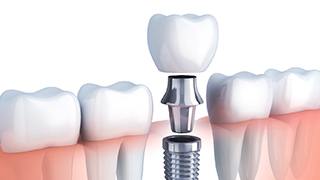 Dental implants are small, titanium, screw-shaped posts that are placed directly into the jawbone in order to simulate the root structure of lost teeth. These can then be attached to dental prosthetics that can restore any number of teeth, providing a secure, durable, and natural-looking result.
Because titanium is biocompatible, dental implants will fuse to the jawbone and surrounding tissues in the months after they have been placed. As a result, they have the potential to last for decades, maybe even a lifetime. Your replacement teeth will also be more reliable and stable than traditional dentures and bridges, allowing you to smile with confidence for years to come. These are just a few of the reasons why Dr. Amos will typically recommend dental implants for most patients suffering from tooth loss.
The Dental Implant Process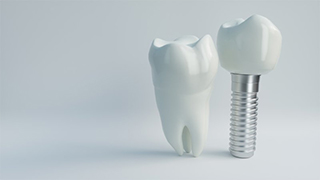 Admittedly, getting dental implants takes longer than receiving a traditional prosthetic. However, most of our patients with dental implants have found that their long-term benefits are worth waiting for. Dr. Austin Amos works with a team of dental implant experts in the area to ensure you're getting the highest quality of care. Here is a basic outline of what to expect during the dental implant process:
Preparing for Dental Implant Placement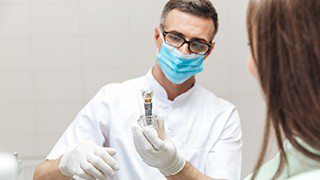 The long-term success of your new smile relies on your jawbone fusing to the posts and remaining infection-free. To ensure your jaw can support the posts, your dentist in The Colony must first create the right foundation. Besides discussing your oral, medical, and lifestyle history during your initial consultation, a CT scan and other images were taken to evaluate your bone.
Based on the results of the images, you may need additional procedures before undergoing your placement surgery, such as periodontal therapy, bone grafting, or a sinus lift. After you've healed from any previous treatments, you're ready for your oral surgery.
Dental Implant Placement Surgery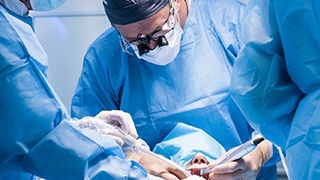 Sedation or anesthesia is used during your surgery to ensure your comfort, so you will need a friend or loved one to drive you to and from your appointment. To begin, your gum tissue is opened to expose your jawbone. Your CT scan is used along with computer-guided technology to locate the ideal positions of your dental implants. Small holes are drilled into your jawbone to insert the titanium posts. Your gum tissue is sutured closed, and the healing process begins.
Your gum tissue will be healed within the next couple of weeks; however, it will take your jawbone much longer, but it is time well spent. The implant posts mimic the roots of your teeth, which stimulates your jaw to encourage new bone growth. Over the next several weeks, your jawbone fuses to the posts through a process called osseointegration.
Your posts will be anchored in place to stabilize your restoration. You will never need to worry about any slipping or irritation to chew, speak, and smile confidently.
Healing from Dental Implant Placement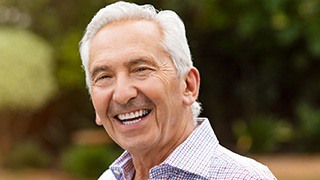 You are given aftercare instructions to follow during your recovery. It is normal to experience pain, swelling, and bruising, but they will subside within a few days. It is important to maintain your oral hygiene and avoid anything that may damage the healing tissue.
Who Dental Implants Can Help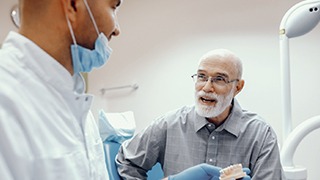 Whether you are missing a single tooth or an entire row, dental implants are simply the best way for you to get your smile back. As we'll discuss below, they can replace any number of lost teeth:
Missing One Tooth
After having an implant post placed by a specialist, we will attach a ceramic crown to a metal abutment, which is a small metal screw that will connect it directly to the implant post.
Missing Multiple Teeth
If you have multiple missing teeth in a row, two of these crowns can be placed on either side of the gap in your smile, and then they can be connected to a prosthetic tooth to completely fill in space, forming a bridge.
Missing All Teeth
Do you have a denture that constantly slips and slides out of place? With implant dentures, we can put an instant stop to that. Multiple implants can be fitted with attachments that a full or partial denture can snap onto, and because it will be anchored to your jawbone just like your natural teeth, it'll have the same level of stability as well. Also because of this, the dentures will maintain their fit for much longer and you'll even have a stronger bite force, enabling you to eat a wider variety of healthy foods with ease.
Learn More About Implant Dentures
All-on-4
One of the basic requirements to get dental implants is that a patient needs a strong and healthy jawbone, which might not be the case for someone who has suffered bone degeneration due to tooth loss. With All-on-4 dental implants, however, now even more people can benefit from this state-of-the-art solution. This procedure uses just four strategically placed dental implants to support an entire full denture.
Learn More About All-on-4
Understanding the Cost of Dental Implants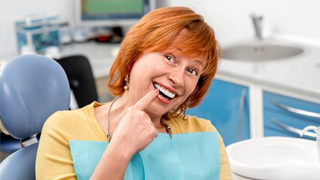 Dental implants allow us to replace the lost roots of teeth as well as the visible portions of teeth, recreating a more natural looking, feeling, and functioning smile that lasts for decades with proper care. Unfortunately, for many of our patients, worrying over The Colony dental implant costs prevents them from moving forward with this quality treatment. If you're considering dental implants, call Ridgepointe Dental to schedule a treatment consultation. We'll walk you through the costs associated with your dentistry services and help you fit the price of these beneficial dental care solutions into your budget.
The Price of Dental Implants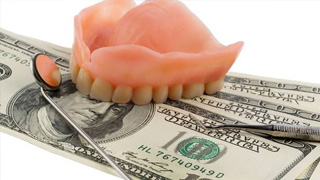 The largest portion of the cost of implant supported tooth replacement is the price of the implant posts themselves. Depending on the size, type, and material, your implant post can cost anywhere from $500 to $3000 (higher in some rare cases). That's before the implant is even placed or restored. For those patients who need multiple implants, the price usually diminishes for each additional implant, and as long as you have your implants placed on the same day, surgical costs are only slightly higher for one implant or several.
Factors That Affect the Cost of Dental Implants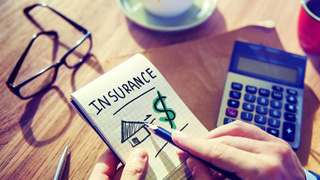 In addition to the price of your dental implants and the surgical placement, there are a number of other factors that impact the cost of treatment, including:
Tooth extractions – prior to tooth replacement, we may need to remove one or more damaged teeth
Bone and tissue grafts – to improve your chances for successful dental implant placement, a bone or soft tissue graft may be necessary
Dental sedation – to stay comfortable throughout your implant placement, tooth extractions, and grafting procedures, you may want to receive sedation
Replacement teeth – your crown, bridge, partial, or full denture will also impact the price of your treatment
Making Dental Implants Affordable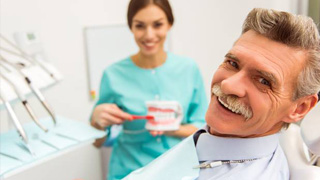 In order to help patients cover the cost of their implant-supported tooth replacement plans, we only ask for the cost of specific treatments on the day that they're provided. Since the entire implant process is completed over the course several months, this allows patients the opportunity to spread the cost of treatment out. We will also work with your dental insurance provider to maximize any available coverage. Most providers don't cover dental implant posts, but other parts of your treatment plan like tooth extractions and replacement teeth should be covered. Because the bulk of the cost of your treatment is the dental implant posts and their placement, many patients use CareCredit financing for this portion of treatment. CareCredit offers low and no interest financing plans, allowing patients to pay for this advanced treatment in small monthly installments without worrying about hefty credit card fees.
Advanced Dental Implant Procedures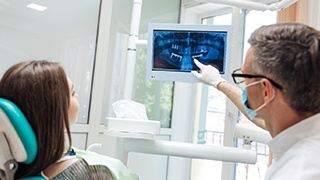 Dental implants in The Colony are one of the safest and most effective methods of treatment to replace missing teeth. But what do you do when you've been told you don't qualify for this tooth replacement solution? While it might seem hopeless, the team at Ridgepointe Dental can renew your hope with an advanced dental implant procedure! Whether you're in need of a bone graft or a sinus lift, we can help you achieve a fully restored smile, complete with dental implants.
Bone Grafting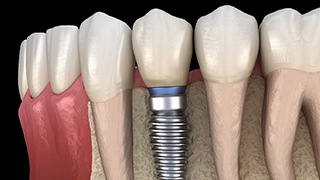 If you've learned that your lower jawbone isn't strong enough to hold up an implant, there's no need to worry. Dr. Amos can perform a bone grafting procedure, which will give your jawbone the additional support it needs. He will start by making an incision in the gum line to expose the appropriate area. Placing bone minerals into the necessary space, he will stitch up the gums and send you home to heal.
Over the course of four to nine months on average, you can expect these minerals to encourage your body to rebuild and strengthen your jawbone, so when the time comes for implant placement, there should be no problems with positioning and successfully restoring your smile.
Sinus Lifts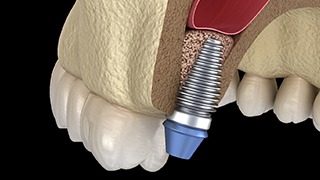 Just like the lower jaw can pose a problem if too weak, so can the upper jaw. The maxillary sinuses are located immediately behind your cheeks and above your upper teeth. When a tooth is removed, the bone is left weak, creating a problem for individuals looking to replace a tooth. By having a sinus lift, your dentist in The Colony can help the bone grow into the floor of your sinuses by filling the area with bone minerals. In general, the same amount of healing time will be necessary in order to achieve proper results.
Dental Implant FAQs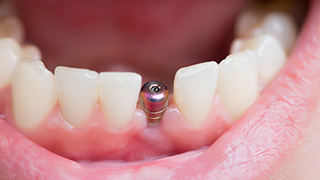 With a success rate of over 95%, dental implants are the leading option in tooth replacement today. If you have questions about this popular restorative treatment, we've got answers! Keep reading for the handy dental implant FAQ. If doubts remain, please don't hesitate to get in touch with our office to discuss everything you need to know about dental implants.
What Are Dental Implants Made Of?
Most dental implants are made of titanium, a biocompatible material that your body accepts without issue. In some cases, patients with metal allergies or sensitivities may require ceramic or zirconia dental implants. These materials promote the growth of bone tissue to help the jawbone fuse together with each implant post.
How Many Teeth Can Dental Implants Replace?
Dental implants can be used to replace anywhere from a single missing tooth to an entire arch of lost teeth in the upper or lower jaw. Implant posts can support a single dental crown, a dental bridge, or a complete denture.
How Long Does It Take to Get Dental Implants?
The entire process for dental implants can take from six months to a year. It is completed in two phases: implantation and restoration. You may wear a temporary tooth replacement in the time between.
Are Dental Implants Right for Me?
Eligible candidates for dental implants are people who are in good oral and overall health. The only way to know for sure whether or not this is a great option for your smile is to schedule a consultation with Ridgepointe Dental! We can't wait to help you enjoy all the benefits of a beautiful, complete set of teeth.