About Us and Our Dental Office
The story of Ridgepointe Dental is very closely tied to the story of The Colony itself. We were one of the first businesses to open when the city was brand new, and over the 30-plus years of our history, we have literally helped multiple generations of families achieve clean, healthy, and beautiful smiles. We have continued to grow and flourish with The Colony, providing a comprehensive array of services that are perfect for the entire family. While our customer service may be old-fashioned-friendly, you can trust that your dental care will always be high-quality and utilize the latest, state-of-the-art technology.
Comfortable Atmosphere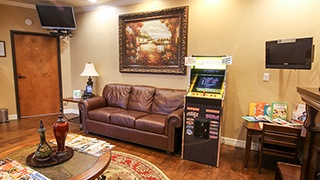 When you walk into our office, the first thing you'll notice is that it looks and feels nothing like your normal dental office! Rather, it will feel like you're stepping into an old friend's living room, and between that and our friendly team greeting you, any nerves you might have will instantly melt away. We work diligently to make sure that every one of our patients has a relaxing and comfortable dental experience because taking care of your teeth should never be a source of stress.
We Listen to Our Patients – And We Celebrate You!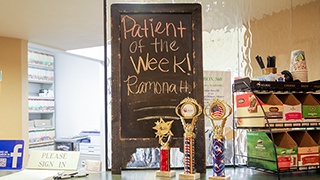 Just because our practice has been around for a long time doesn't mean we do things like everyone else! For example, when you come in for your first visit, we will literally roll out the red carpet for you…an actual red carpet! At Ridgepointe Dental, our patients are always treated like VIPs. You'll also have a chance to see our popular guest restroom, which rivals many that you'll see in luxury hotels around the world. Don't take our word for it, come see it for yourself!
Community Involvement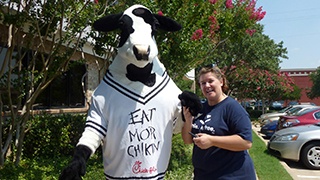 Giving back to the community has always been a central tenet of our practice because as The Colony grows, so does Ridgepointe Dental. We frequently use our free time to donate our services through programs like Dentistry from the Heart, which is dedicated to providing dental care to those patients who normally don't have access to it. We also support our veterans through the American Legion as well as numerous police charities, because we believe it is important to care for those who protect us and serve our country.