Emergency Dentistry
In Pain? Need Help? Call Us!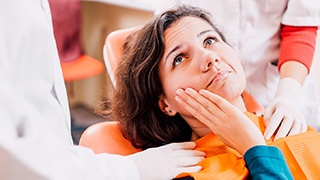 Dental emergencies only occur at the worst possible times—that's why they're emergencies!—but when they do, you need to act fast. If you or a loved one ever experience any kind of dental injury, there's only one thing you need to do: call Ridgepointe Dental.
Our team is specially trained to handle a wide variety of dental emergencies, including:
Knocked out teeth
Partially dislodged teeth
Cracked or broken teeth
Severe toothache
Object stuck between the teeth
Lost or damaged dental work
Injury to the gums
Injury to the jaw
Facial pain or swelling
When you call us with an emergency, our team will be there to answer questions, offer first-aid tips, and provide immediate same-day care, if necessary. Basically, when you need dental care fast, you can always rely on our team. If you're ever in need of urgent dental care, be sure to call us first!