Emergency Dentist – The Colony, TX
Get the Fast, Expert Pain Relief You Need
Dental emergencies only occur at the worst possible times—that's why they're emergencies! While we sincerely hope you never encounter one of these scary situations, we want you to be as prepared as possible should an emergency strike. Our compassionate and experienced team is here to help you get the fast, expert pain relief you need right away, whether you're suffering from a broken, painful, or knocked-out tooth. If you or a loved one ever experience any kind of dental injury, there's only one thing you need to do: call Ridgepointe Dental.
Why Choose Ridgepointe Dental for Emergency Dental Care?
Dental Insurance Welcome & Flexible Financing Available
Caring & Compassionate Team with Years of Experience
Nitrous Oxide Sedation Available for Relaxing Treatment
How We Treat Dental Emergencies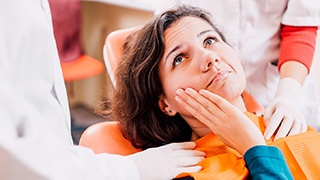 Dental emergencies are almost always sudden and alarming, but you will feel a bit less stressed if you know what to do and what to expect. When you call us with a dental emergency, here's what will likely come next:
Schedule your emergency appointment: We'll schedule your emergency appointment so you get the care you need right away. We'll also give you first-aid tips over the phone to use until you reach us.
Get an emergency exam: As soon as you arrive, we'll examine your smile and capture any necessary X-rays to determine the source and extent of your emergency.
Review findings and create a treatment plan: Next, we'll review our findings with you and work with you to create a custom treatment plan. You'll always know all the details of your treatment before beginning it, such as the estimated length and cost.
Get the care you need fast: Before you know it, we'll get to work repairing and preserving your smile, whether that's with a filling, antibiotics, a root canal, or a different treatment altogether.
The Most Common Dental Emergencies
If you are experiencing any painful or worrisome symptoms, don't hesitate to give us a call right away, even if you're unsure if you need urgent dental care. We'll help you assess your situation over the phone and schedule your appointment accordingly. We are experienced and well-equipped to handle all of the most common dental emergencies, including the ones below.
Understanding the Cost of Dental Emergencies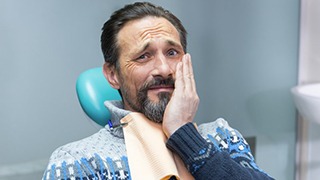 You should never let questions of affordability stop you from getting urgent dental care; after all, a healthy smile full of natural, fully functioning teeth is priceless! Dr. Amos and the rest of our staff will do everything they can to alleviate the stress of paying for emergency care, whether that means working with your insurance company or helping you apply for third party financing. Get in touch with us to learn more about what your financial options are if the worst comes to pass.
Factors That Affect the Cost of Emergency Care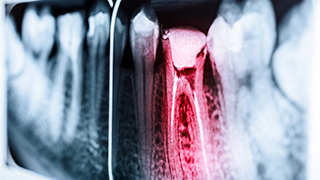 Unlike traditional checkups and cleanings, there is no one flat price for dental emergencies. That is because every case is different, and each patient will have different factors to think about. The type of treatment required will be one of the largest determining factors. Not only are some treatments more costly than others, but different insurance policies will offer different levels of coverage for specific services; a simple procedure such as a filling, for example, might receive different coverage than root canal therapy. It goes without saying that having dental insurance in and of itself will go a long way towards reducing your out-of-pocket costs, although you need to be aware of the benefits offered by your specific plan.
Your Financial Options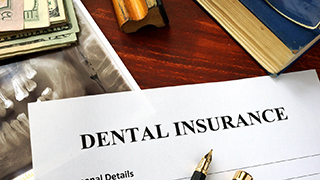 At Ridgepointe Dental, we process and fill claims for patients who have all kinds of PPO dental insurance plans. We'll help you find ways to get the most out of your coverage and minimize your out-of-pocket costs. We are currently in-network with a number of insurance plans (including Delta Dental), but out-of-network plans are accepted as well; if you call our team with your insurance information, they can let you know what kind of benefits you can expect at our practice under your current plan.
Of course, you may not have any insurance at all. If that's the case, we can help you apply for CareCredit instead. This third-party financier allows you to choose a payment plan that fits your budget. You can pay for your treatment in monthly installments with little to know interests.
Don't Forget Your Consultation!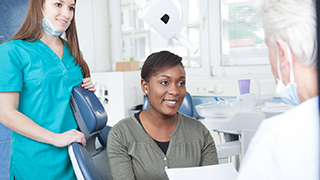 You won't be able to make a reasonable estimate of the cost of your emergency dental care until you've had an examination from Dr. Amos and the rest of our Ridgepointe Dental team. Once we have an idea of how severe the problem is, we can figure out what kind of services you need and whether insurance will help cover them. You can count on us to go above and beyond to bring you the care you need while making sure that the process is as stress-free for you as possible.
Should You Visit the Dentist or the ER for a Dental Emergency?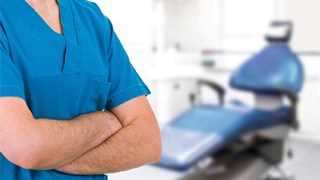 Many patients may automatically turn to their nearest emergency room for assistance when they have any health problem—even when it takes place in or around the mouth. The truth is that in most cases, emergency rooms are full of patients that have all different kinds of injuries—some of which may be more severe than a dental accident. You'll most likely be stuck in a waiting room for hours on end, waiting for a nurse or doctor to finally be able to treat you among other patients.
In the case that they can actually see you within a timely manner, they will likely end up referring you to a dentist after all the waiting anyways. Most emergency rooms don't have a dentist on-hand in the hospital, and doctors don't necessarily specialize in addressing dental concerns—especially if your smile needs to be repaired.
The best way to avoid that whole situation is to visit your dentist first. Whenever a dental emergency strikes, the first thing that you should do is pick up the phone and give us a call. This way, we can address your concerns in the heated moment, working to keep you calm and offer helpful advice until you're able to make it to our office.
Keys to Preventing Dental Emergencies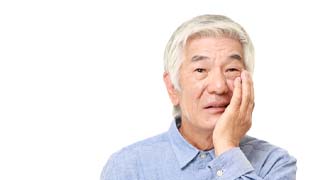 Did you know that many dental emergencies are preventable? Some situations may occur regardless of the precautions you take; however, in most cases, you can take certain steps to avoid problems from happening in the future. The good news is that these steps are pretty simple.
Visit Your Dentist Regularly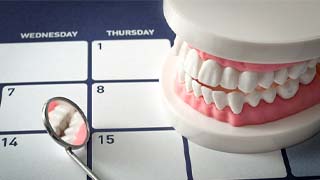 There's a reason why our team and the American Dental Association recommend visiting the dentist twice every year. These visits play a vital role in keeping your teeth and gums healthy and strong. During this appointment, Dr. Amos can inspect your mouth looking for any signs of trouble. He can spot issues while they are small, easy to treat, and not causing you pain. Also, we take the opportunity to clean your teeth, removing cavity-causing plaque and tartar buildup. This professional cleaning stops decay from harming your teeth before it has a chance to start. In other words, if you aren't visiting Ridgepointe Dental at least once every six months, you are putting your smile at risk.
Maintain Good Oral Hygiene At Home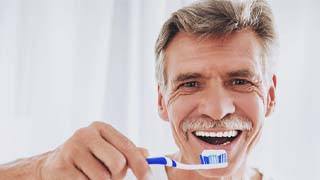 If you want to avoid painful dental emergencies and emergency visits to the dentist, you can't rely on your semi-annual hygiene appointment alone. You must also have a daily oral hygiene routine at home. You need to brush your teeth at least twice every day and floss once daily to keep bacteria and plaque from building up. These little habits only take a few minutes, but they can drastically reduce your odds of painful cavities and other problems. During your next dental appointment, we can show you proper techniques to brush and floss so that you get the best clean possible at home.
Stick to a Nutritious Diet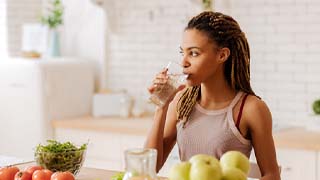 The foods and drinks you ingest don't just impact your weight and well-being, but they also affect the health of your smile. Bits and traces of food and drinks stay in your mouth, and acidic or sugary substances can harm your teeth and gums. Sugar encourages harmful bacteria, which produce acids that erode tooth enamel. By limiting your sugar intake, you can keep these bacteria under control. There are plenty of other foods that actually help the biome in your mouth, such as apples, leafy greens, celery, and carrots. You also need to sip water throughout the day to rinse bacteria away and neutralize acids.
Wear a Mouthguard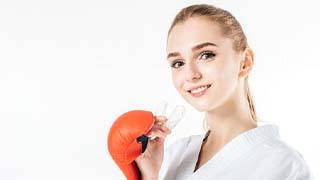 When you play sports or participate in certain activities, you should consider wearing a mouthguard. While hockey and football are particularly risky because of the likelihood of getting an impact to the face, even non-contact sports like basketball, lacrosse, or soccer involve some risk. Wearing a mouthguard can absorb a hit to the mouth and protect your teeth underneath. You could choose to wear a store-bought mouthguard, but custom mouthguards from Ridgepointe Dental will fit more comfortably and stay in place more easily.
Dental Emergency FAQ's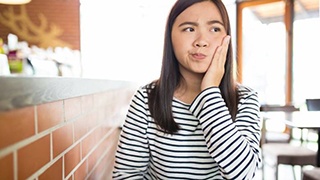 No one ever expects a dental emergency to happen to them, but it's more common than many people realize. In fact, 1 in 6 Americans faces one each year. If you find yourself in this unfortunate situation, do you know what to do? The first step is to call your emergency dentist in The Colony. While you wait for your appointment, here are the answers to a few common questions to help you through this difficult time.
Should I Go to the Emergency Room for a Dental Emergency?
A dental emergency can be quite scary. Your first instinct might be to head to the hospital; however, they aren't equipped to address the root cause of the problem. The most they can do is prescribe antibiotics or pain relievers. It's always best to see your dentist in The Colony. If you suspect a broken jaw or have a medical emergency, go to the hospital first. We will be here for you after you're released.
How Long Can I Wat to See My Dentist?
No one has time for an unplanned dental appointment. When the unexpected strikes, it's tempting to wait to see your dentist until after you have more flexibility in your schedule. Unfortunately, if you wait too long, you might lose your tooth.
As with any emergency, time is of the utmost importance. It's best to schedule an appointment right away. Our office values your time, which is why we embrace the latest technologies and methods to reduce the amount of time you spend in the dental chair without compromising the results.
Should I Have a Problematic Tooth Removed?
If you have a tooth giving you grief, having it removed may seem like the simple solution because it eliminates the problem at its source, but it will create a new list of complications. Every tooth is invaluable to your oral health. If even one is missing, you develop a higher risk of cavities, gum disease, and additional tooth loss. Not to mention, you'll need to commit to using a prosthetic to fill the empty space.
It's always best to save your tooth whenever possible. We will do what we can, but if we find an extraction is in your best interest, we will explain your replacement options, like a dental implant.
How Much Does an Emergency Dental Visit Cost?
There isn't a set fee you can expect to pay because the amount is determined by your specific treatment plan. We will provide you with an estimate and discuss your payment options to restore your smile without breaking the bank.
Although every dental insurance policy differs, most plans cover at least 1 emergency visit per year. We will work on your behalf with the insurance carrier to reduce the amount you need to pay out-of-pocket. We will explain any remaining balance and your payment options, like using third-party financing with CareCredit. You're given the funds you need to pay for your treatment, so nothing stands in your way of restoring a healthy, beautiful smile.