All-On-4 Dental Implants – The Colony, TX
New Teeth and a New Lease on Life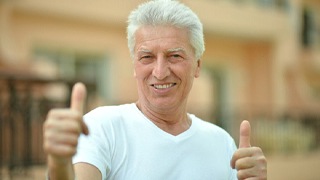 It's no fun living without your teeth. With the right help, though, you can be completely restored. The most reliable and durable option available is dental implant placement. Contact our office in The Colony today to schedule an appointment with Dr. Amos to learn how All-On-4 dental implants can replace your missing teeth in a secure and lasting manner. Then, with the expert care you'll receive, you'll soon be smiling from ear-to-ear with a brand-new set of teeth!
How Do All-On-4 Implants Work?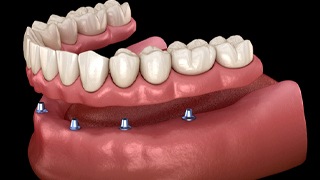 Each tooth has its own root structure. Does that mean, then, that if you're missing an entire set of teeth, you'll have to endure the placement of dozens of dental implants in The Colony? The All-On-4 dental implant method prevents the need for such a traumatic experience. Instead, it provides a way to secure a complete set of prosthetics in the most efficient manner possible.
Dr. Amos will insert four dental implants per arch, angling them to provide the most stability possible. After you've healed sufficiently, he'll abutments that act as anchors for the final prosthetics to be attached. The final result will be a set of teeth that look and function normally.
Am I a Candidate for All-On-4 Implants?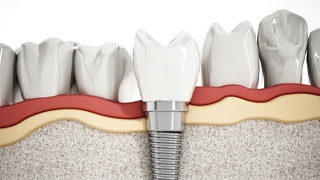 The All-On-4 method of dental placement opens the door for patients who previously may not have qualified for a dental implant. All-On-4 dental implants may be best suited for the following scenarios:
Patients with good oral health
Patients who don't use tobacco
Patients who are tired of loose dentures
Patients facing the loss of their teeth at once
Patients looking for a more cost-effective treatment
Patients previously told they didn't have enough existing bone
The best way to find out for sure whether you're a good candidate for All-On-4 implants is to visit us in The Colony for a thorough examination.
What are the Benefits of All-On-4 Implants?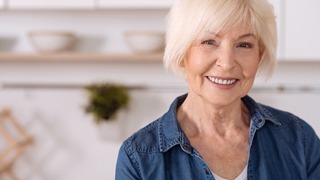 When you receive All-On-4 dental implants, you'll be able to prevent the bone loss that can occur from prolonged tooth loss. Additionally, you'll regain up to 75% of your original chewing capacity, which means you can once again eat the foods you love.
Another perk is that you'll have properly aligned jaw, and you'll also be able to prevent the premature facial wrinkling that can happen when your teeth are missing.
One of the most important benefits of receiving All-On-4 implants, though, is that you'll no longer have to hide your smile. Instead, you can experience the confidence that comes along with having an attractive set of teeth.
All-On-4 vs Traditional Dental Implants
A traditional dental implant consists of a cylinder-shaped titanium post that is inserted into the jawbone. The All-On-4 method is similar in that it also utilizes dental implants, just more efficiently. The fixtures are angled to maximize the bone to implant ratio, which is especially important in situations where there is less available jawbone. Therefore, although less hardware is used, you'll still have a secure and lasting replacement.
Another convenient feature of the All-On-4 procedure that separates it from traditional dental implant placement is that it's typically a much faster process. In some cases, we can fully restore a smile in one visit.
To learn more about the All-On-4 process, contact us at RIdgepointe Dental to request a visit today!
All-on-4 FAQs
All-on-4 dental implants in The Colony may sound great, but it is completely understandable if you have some questions that you would like to get answers to before you request an appointment with our team. That is why we have put together this brief list of FAQs. If you don't see the information you were hoping for, you are more than welcome to get in touch with us directly. Dr. Amos and our team look forward to chatting with you!
How Long Does the All-on-4 Process Take?
Although All-on-4 in The Colony is sometimes referred to as "Teeth in a Day," the treatment actually takes place across several months. However, in many cases, extractions, implant placement, and placement of provisional teeth can all be done in a single appointment. After a healing period of a few months, you'll be fitted for your new, permanent teeth.
Are All-on-4 Dentures Removable?
All-on-4 dentures are permanently attached to the implants that support them. They will only be removed when you visit us for cleanings, exams, and other dental services. Many patients enjoy the convenience of having prosthetic teeth that are always in place. If you would prefer that your new smile is removable, Dr. Amos can discuss other treatment options with you.
Will I Need a Bone Graft?
All-on-4 implants are inserted into the jaw at places where the bone is naturally thick and sturdy. That means that for most patients, even ones who have suffered a degree of bone loss, no bone graft is necessary. This is one of the aspects of All-on-4 that makes it a quicker and less invasive process than traditional implant treatments. However, keep in mind that nothing is certain. In rare cases, a bone graft may be necessary.
How Much Does All-on-4 Cost?
Your dentist in The Colony and our team want to help you enjoy affordable treatment. Although All-on-4 costs more than conventional, non-implant dentures, it tends to come with a lower price than other types of implant-supported tooth replacement. We'll be sure to give you a candid cost estimate when you visit us for your consultation. We'll also help you explore resources, such as insurance, that might make All-on-4 easier to fit into your budget.
How Successful is All-on-4 Treatment?
All-on-4 dental implant treatment boasts a success rate of over 95%. You can boost your chances of being in that happy majority if you carefully follow postoperative instructions. For example, you should avoid smoking, stick to a diligent oral hygiene routine, and attend regular checkups with Dr. Amos. If you notice any cause for concern — for example, if you experience abnormal swelling or soreness in your gums — you should call us right away so we can assess the situation.