Your Children's Dentist
Giving Little Smiles a Strong Start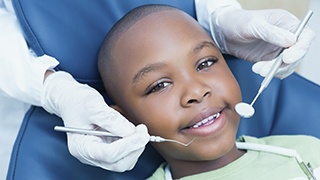 According to the American Academy of Pediatric Dentistry, a child should ideally by their first birthday.
Why?
Because early dental appointments are one of the best things you can do to ensure your child's long-term oral health. When you bring your little one to Ridgepointe Dental, your dentist will examine their mouth to make sure their teeth are developing correctly as well as look out for common dental problems like tooth decay and cavities. Treatment for any issue at a young age is usually simpler and easier than waiting till later, so with early intervention, we can often save your child from needing more involved (and potentially expensive) treatments down the road.
Plus, these early visits will present the perfect opportunity for us to introduce your child to the dental office and teach them about taking care of their new smile. Their dentist can discuss how to brush, why it's important, as well as how their diet impacts the teeth.
Our team simply loves having children around the office, and we have just the right combination of treatments, patience, and a gentle touch to make sure they always have a good time with us. To schedule your little one's next appointment, please contact us today.
Children's Dentistry FAQs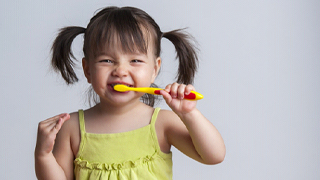 Unfortunately, nobody hands you a guide that teaches you everything there is to know about keeping your child healthy and happy. Teaching them positive oral hygiene habits when they're young can ensure that they have all the tools they need to keep their smiles healthy in the future. When parents bring their little ones in for routine appointments, they usually have several questions they've been wondering about. We've compiled some of them below for your convenience.
Is it bad if my child is sucking their thumb?
Thumb and pacifier-sucking is a completely natural behavior that your child does to help them feel safe and secure. According to the American Dental Association, this is a natural habit that your infant starts to form in the womb. It doesn't become an issue until they get older, once their permanent teeth begin to grow in, which is around the age of four. After that, aggressive and prolonged suction with their mouth could alter the development of their jaw and the alignment of their teeth. This can result in conditions like speech impediments and bite problems.
If you need help trying to get your child to break this oral habit, don't hesitate to ask your children's dentist in The Colony, Dr. Austin Amos.
How can I encourage my child to brush and floss?
Encouraging good oral hygiene habits early on is vital in maintaining your child's oral health. Although this seems easy to do in theory, it can be hard to get your little one excited about taking care of their teeth and gums. Here are some tips to turn their oral hygiene routine into less of a chore:
Turn brushing their teeth into a game by offering positive rewards like choosing the next movie for family night.
Set a good example for your child and allow them to brush and floss every morning and night with you. That way, they can also watch and learn the proper techniques.
Next time you go to the store to pick up a new tube of toothpaste, bring your little one along. Letting them choose fun oral hygiene gadgets with their favorite cartoon characters on them can make them more excited to use them.
How can I keep my child from getting cavities?
Some children have molars with deeper ridges and crevices that are better at collecting cavity-causing sugars and increasing their risk of developing cavities. If you want to protect your child's growing teeth from decay, ask your dentist for kids in The Colony about preventive treatments like dental sealants. These are like small raincoats that are painted over your child's teeth to shield them from harmful substances.
When should I start cleaning my baby's teeth?
Even if your infant's first tooth hasn't appeared yet, you can still look after their oral health by wiping their gums with a soft, clean cloth or gauze pad with water on it. Once your little one's first tooth appears, you can use a pea-sized amount of low-fluoride toothpaste to brush it. Encourage them to spit out the toothpaste, but if they're not able to, you can easily rinse it out of their mouth. Be sure to use a small, soft-bristled brush with a gentle amount of pressure.