Tooth Extractions – The Colony, Texas
Maintaining Oral Health for a Lifetime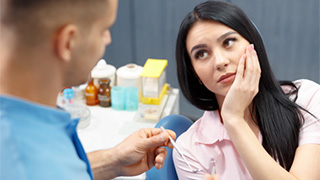 The loss of even one tooth can dramatically impact oral health, and the Ridgepointe Dental team in The Colony usually works hard to help patients keep their natural smiles. In some cases, removing a tooth is actually the best way to preserve optimal oral health and function. While it's rarely our first choice, our skilled dentists are happy to offer this advanced service to help patients keep their healthy bite. If you want to learn more about tooth extraction, call our dental office in The Colony to schedule a dental treatment consultation today. We'll examine your smile, help you determine whether or not tooth extraction is necessary, and partner with you to create a customized treatment plan.
When are Tooth Extractions Indicated?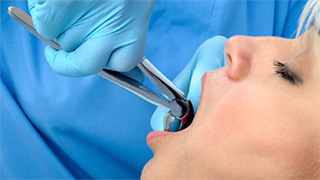 We will always do our utmost to help patients keep their natural teeth. However, in the following situations it may make more sense to remove teeth to improve your overall oral health and function:
Severe tooth decay or damage that destroys too much of the tooth to be repaired
To allow for easier tooth movement during orthodontic treatment where crowding is a main concern
To ensure long-term success prior to the design and placement of a partial or full denture
When primary teeth don't fall out on their own
When a tooth is impacted, unable to erupt
Wisdom teeth, third molars, are often removed due to crowding or impaction
How are Teeth Removed?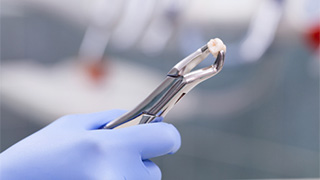 Teeth are usually removed by pulling or surgical extraction. Pulling a tooth is only possible when it has fully emerged from the gum line. We numb the area around the tooth. Then, a clasping tool is used to shift the tooth until it breaks free from the gum line. When pulling isn't possible, we will surgically remove the tooth. This may be as simple as making an incision in the gum line to reveal more of the tooth, but it can also involve drilling into bone tissue or breaking the tooth into smaller sections. Each person's situation is unique, and before we begin your extraction procedure, we will carefully plan out every detail to ensure your comfort.
What Happens After Tooth Extraction?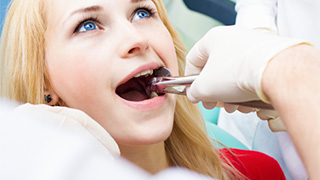 Following your tooth removal, we'll provide you with a specific treatment plan to care for your smile as you recover. Our goals are to keep you comfortable and avoid complications, so we'll outline a pain management plan utilizing prescription and/or over the counter medications. You can also use ice packs to reduce swelling, slow bleeding, and decrease pain. Additionally, we'll give you specific instructions for your oral hygiene routine, including when and how to change out your gauze, caring for your remaining healthy tooth structures, and warning signs potential health concerns. We can also help you plan to introduce a range of foods to your diet as the treatment site heals. You should contact us right away if you notice any of the following issues:
Increasing pain rather than diminishing pain after the first two days
Sensitivity near the surgical site
Heat, redness, or swelling around the surgical site
Bleeding that doesn't stop after the first two days