Teeth Whitening – The Colony, TX
A Quick Way to Revamp Your Smile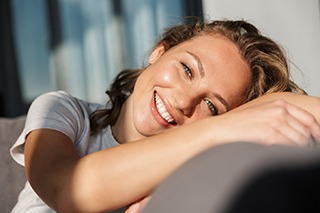 Are you tired of hiding behind dull discolored teeth? Ridgepointe Dental can bring new life to your smile with teeth whitening in The Colony. Unlike over-the-counter products, our specially formulated whitening agent deeply penetrates your enamel to resolve tough stains to give you the drastic results you desire. We offer two convenient solutions to restore a bright, white smile that lasts. If you'd like to learn more about this cosmetic service, continue reading or give our office a call today!
Who is a Good Candidate for Teeth Whitening?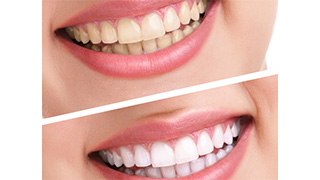 Most people who have staining and discoloration are eligible for teeth whitening in The Colony. It's almost impossible to avoid tooth discoloration because it is a natural part of the aging process. Over the years, the enamel becomes thinner, causing more of the yellowish dentin to be more visible. When you combine age with outside factors, like darkly pigmented foods and drinks, poor oral hygiene, or smoking, your teeth can lose their bright white appearance quickly.
At the first sign of discoloration, you likely tried a few over-the-counter products, but you were left dissatisfied with the results. The only way to achieve a noticeable difference is with the help of your dentist in The Colony. During your consultation, Dr. Amos will perform an oral examination and review your medical history to determine whether or not you're a good candidate. Based on our findings, we'll begin working on your custom treatment plan to help you get your desired look.
How Does Teeth Whitening Work?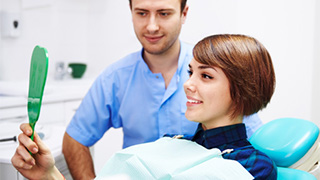 At Ridgepointe Dental, we offer two methods of professional teeth whitening in The Colony. We'll recommend one of the following solutions based on your needs and lifestyle:
Take-Home Teeth Whitening
Did you know that you can whiten your teeth around your own schedule? Our Opalescence at-home kit gives you everything you need to achieve in-office results. We'll provide you with custom-fit trays to ensure the even and consistent distribution of the whitening agent. You'll use the at-home kit for about 2 weeks, and as each day passes, your teeth will become several shades whiter.
In-Office Teeth Whitening
The Zoom! whitening system provides fast results. In fact, your teeth can become 8 to 10 shades whiter after just one appointment. After placing a protective barrier on your gums and lips, we'll apply a highly concentrated whitening agent to your teeth. A special light is used to activate the whitening molecules to resolve the stains.
Tips for Maintaining Your Brighter Smile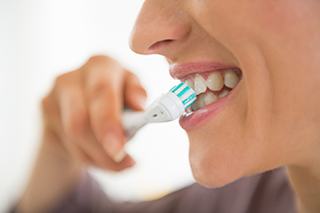 Your new smile can stay bright for several years if you take the time to care for it properly. For the first 24 to 48 hours, it is best to stick to a white diet because your teeth are more susceptible to stains. Choose foods white in color, like yogurt, plain chicken, or rice.
Besides maintaining your oral hygiene, you can prevent future discoloration by limiting your contact with stain-causing foods and drinks. If you cannot skip your favorite cup of coffee or berries for lunch, brush your teeth right away or rinse your mouth with water. It is also best to avoid tobacco in any form.
Teeth Whitening FAQs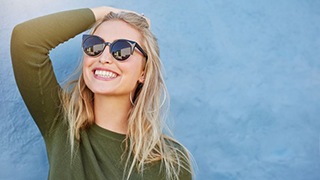 If you're looking for a quick and easy way to get rid of pesky tooth stains and discoloration, then you've made the right choice with professional teeth whitening in The Colony. Whether you decide to go with in-office or take-home whitening, we know that your results will leave you smiling for many months to come. Before you go through with the treatment, our team at Ridgepointe Dental wants you to have all of the information you need to make a confident decision. That's why we've included the answers to a handful of frequently asked questions about teeth whitening below.
Is Teeth Whitening Safe?
Definitely! Although some over-the-counter whitening products have been linked to enamel erosion and gum irritation, the products we use have been proven to be 100% safe and effective. Otherwise, your dentist in The Colony wouldn't offer it! When you choose to brighten your grin with our professional teeth whitening treatment, you can trust that your results will be dramatic, gorgeous, and safe.
Should I Get My Teeth Cleaned Before Teeth Whitening?
If you can, it's generally best to undergo a teeth cleaning before you get them whitened. By letting one of our team members clean your teeth, harmful plaque and tartar will be removed, ensuring that your results are free of unsightly, uneven blotches.
However, to make sure your teeth are not overly sensitive after whitening, we recommend that you schedule your whitening treatment at least a week after your cleaning.
Does Teeth Whitening Affect Restorations?
Unfortunately, we typically don't recommend teeth whitening for patients who have visible dental restorations, like veneers or crowns. Because they are made from non-porous materials, restorations will not become brighter with a whitening treatment, but the surrounding teeth will. This will leave your smile looking two different shades of white.
Is Teeth Whitening Right for Me?
The best candidates for teeth whitening are adults and older teenagers. While each dentist varies in which kind of patients they'll treat with a certain procedure, most dentists agree that children and preteens should not undergo any type of teeth whitening treatment. In order to be a good candidate for teeth whitening, your mouth should be in generally good health. Underlying issues like gum disease or cavities could result in your treatment not being as successful.
Get a Bright Smile Today!
If a dull smile has hurt your self-esteem, you can revamp your confidence with the whitening treatment that is right for you. After an initial consultation, we will discuss your options to help you reach your desired results. Contact our office today to schedule your appointment for a bright smile.