Dentures & Partial Dentures—The Colony, TX
Renew Your Smile with a Custom-Made Solution
For people dealing with several missing teeth, dentures have provided a reliable replacement for generations, and thankfully, modern-day dentures in the Colony are very different compared to the ones your parents or grandparents might have worn! Now, Dr. Amos can provide you with a custom-made prosthetic that is strong, reliable, and completely natural-looking, ensuring that the next time you want to take a bite of your favorite food or speak with a friend, the last thing on your mind will be your teeth!
Dentures 101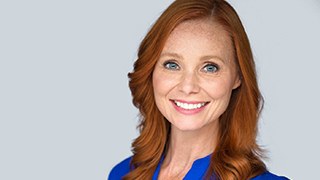 You probably have a basic idea of what dentures are, but do you know what they're actually made of? In the past, anything from animal teeth to wood would be used, but today, lab-made ceramic teeth are affixed to an acrylic base that is colored to look just like gum tissue. The end result is a prosthetic that fits seamlessly into the mouth and drastically improves a patient's appearance and oral function at the same time.
Our Denture Options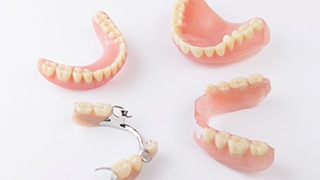 Depending on your particular situation, Dr. Amos will recommend one of the following types of denture:
Partial Dentures: Do you still have some healthy teeth? If so, a partial denture can be specially-designed to fill in the gaps in your smile like a piece of a puzzle. It will be held in place using small metal clasps that loop around your remaining teeth,
Full Dentures: Do you have an entire row of teeth that needs to be replaced? If so, a full denture can do exactly that. This type sits directly on the gums and stays in place thanks to natural suction/a bit of denture adhesive.
Implant-Retained Dentures: These look just like traditional dentures above the gum line, but the big difference is that the prosthetic is attached directly to the jawbone using four to six dental implant posts that act like new tooth roots. This not only makes them much more stable and secure compared to a regular denture, but because they also help preserve the density of the jawbone, patients can look forward to the initial fit lasting much longer as well.
What is the Process Like to Get a Denture?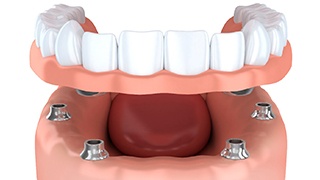 Everything will start with a one-on-one consultation with your dentist in The Colony, Dr. Amos. He'll briefly examine your mouth and jaw, and then he'll discuss which tooth replacement option he thinks would be the best fit for you. If you both decide to go with a denture, then one of a few things will happen next:
If your remaining teeth are relatively healthy, he'll take an impression of your mouth, and this will be used to design your denture.
If you have a few damaged/decayed teeth left, he will schedule for those to be extracted before designing your denture.
If you decide to get an implant denture, they will need to be placed before you receive your new teeth.
Overall, the process from beginning to end will require you attend multiple appointments over the course of a few weeks or months. This time will be well worth it, as Dr. Amos will use it to make sure that your denture has the perfect look and fit.
Get Started Today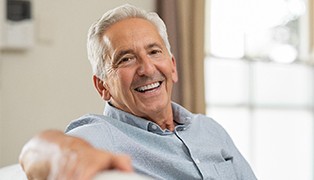 If you're tired of dealing with your missing teeth, or if you want to upgrade an old denture you can't really trust anymore, Dr. Amos and the team at Ridgepointe Dental are ready to provide exactly what you need with expertise, care, and skill.
To schedule a consultation so we can get started renewing your smile, contact us today.
Dentures FAQs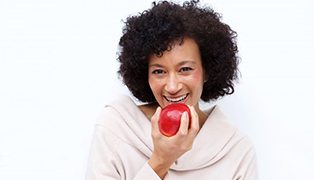 If you're struggling with the inconveniences of not having a complete smile, we hope that you'll schedule a consultation with us. Together, we can determine whether dentures in The Colony are just the solution you need. Before that, though, it may help to do some research on this treatment and what you can expect from it. While we're happy to address any of your concerns during your appointment, here are the answers to some of the questions we get asked the most frequently.
How Long Will My Dentures Last?
Due to natural changes that occur in the shape of the jawbone after tooth loss, a traditional full or partial denture will often become loose over time. While routine adjustments can help to some degree, the entire denture will have to be replaced every five to eight years on average.
Implant dentures, on the other hand, tend to last much longer. This is because dental implants stimulate the jawbone and help it maintain its original shape and strength. The denture may have to be replaced every decade or so, but with proper oral hygiene, the implants could last a lifetime.
Do I Brush Dentures Like Natural Teeth?
Yes and no. If you have implant dentures that are fixed in your mouth, you can essentially brush and floss them like you would natural teeth to prevent plaque and bacterial buildup.
Traditional dentures require a bit more maintenance. You'll want to invest in a toothbrush and cleaning solution specifically made for dentures – regular toothbrushes and toothpastes can be abrasive. Every morning and evening, gently brush your dentures as well as your tongue and gums to get rid of the plaque that has accumulated in the last several hours. Before bed, you should soak your dentures in a glass of denture cleanser or room-temperature water. Using hot water, or letting the dentures dry out, could warp their shape.
How Much Do Dentures Cost?
Many factors can influence the cost of your dentures, including how many teeth you've lost, which materials the dentures are made of, and whether you'll be securing your prosthesis onto dental implants. As such, we typically can't give you a price estimate without looking over the specifics of your situation.
While traditional dentures are one of our lowest-priced solutions to tooth loss, implant dentures tend to be a better long-term investment. During your consultation, we can discuss your options and help you decide on what's best for you.
Does Dental Insurance Cover Dentures?
Every insurance provider is different, so we'd have to take a look at your unique policy to answer this question. However, the majority of dental insurance plans will cover a significant portion of the cost of dentures. At Ridgepointe Dental, we gladly work with all dental insurance companies and will even handle the paperwork for you to make the process as easy for you as possible.