Get a Great Smile with Invisalign in The Colony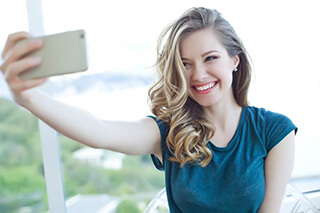 Want to achieve straight teeth without enduring the "braces" part? There is a wonderful alternative to fixed metal brackets and wires, and it's Invisalign in The Colony. We are pleased to offer this treatment for older teens and adult patients of Ridgepointe Dental -- keep reading to learn what Invisalign is, what the benefits are, and whether it's right for you.
What Is Invisalign?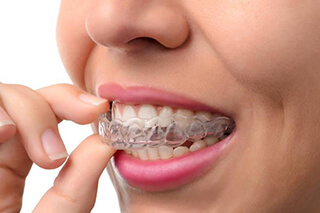 Invisalign is an orthodontic treatment that repositions misaligned teeth using a set of customized clear aligners that you receive in the mail after an initial appointment with our office. You will be instructed to wear each set of aligners for 1 to 2 weeks before advancing to the next in the series. As long as you have them inserted for a minimum of 20 hours each day, you can feel free to take the aligners out for big occasions like important meetings or introductions. The average treatment time for Invisalign depends on the complexity of the case, but most cases are completed between 1 to 2 years.
What Are the Benefits of Invisalign?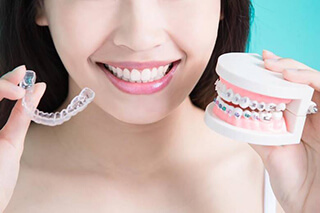 Invisalign offers a number of advantages compared to conventional braces. Some of the most considerable benefits of clear aligners include:
The Invisalign trays are practically invisible when worn
Removability equals convenience when it is time to eat
Your oral health stays strong since there are no special techniques to learn for brushing and flossing
Fewer visits to the dentist are required throughout the treatment compared to conventional braces
Older teens can also undergo Invisalign thanks to modifications that help them remember when to advance to the next set of trays
Smooth plastic is often more comfortable than fixed metal brackets and wires
Who Can Get Invisalign?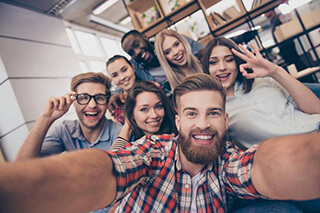 Just about anyone who could benefit from conventional braces can undergo treatment with Invisalign. The most complex orthodontic cases should still be treated with metal braces. In general, Invisalign can be used to correct the following:
Crowded teeth
Gapped teeth
Overbite
Underbite
Crossbite
The only way to find out for sure if you can undergo the Invisalign treatment is to get in touch with our office and ask about adult orthodontics in The Colony.
Cost of Invisalign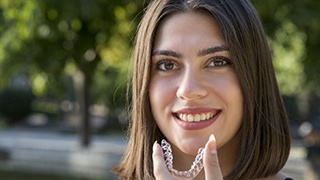 There's one thing that we haven't talked about yet, and that's the cost of Invisalign. Our team at Ridgepointe Dental is dedicated to providing patients with high-quality, cost-effective dentistry, which is why we offer several flexible ways to pay. Because the treatment is completely customized to your needs, the only way that we're able to determine the cost is to conduct a consultation. Once we've done that, we'll discuss all of the pricing factors with you and break down the process.
Contact Us Today!
We want to help all of our patients enjoy straighter teeth and a well-aligned bite. If you are interested in learning more about Invisalign and whether or not you can benefit, we invite you to contact your dentist in The Colony for an appointment today!
Invisalign FAQ's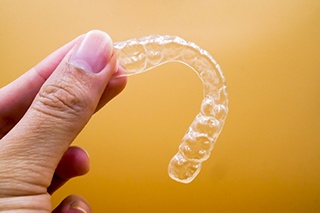 If you're considering Invisalign in The Colony, you're probably curious about certain aspects of the treatment process. That's why we've included the answers to some of the most frequently asked questions about Invisalign and life with clear aligners. Keep reading to get the information you need before committing to this amazing orthodontic option.
How Is Life with Invisalign?
Possibly the biggest benefit of Invisalign is that it can seamlessly fit in with your life—no hassle or inconvenience like with traditional braces. These clear aligners are almost impossible to notice, allowing you to wear them in your social and professional lives without feeling self-conscious or embarrassed. Additionally, Invisalign is completely removeable, which means you won't have to change your diet or avoid certain foods to accommodate your orthodontics. Instead, take your aligners out of your mouth for each meal. Just be sure to clean your teeth and rinse your Invisalign before putting the trays back in.
How Should I Care for My Invisalign?
One of the most important parts of your treatment is maintaining your aligners. This will not only keep them clean and clear, but it will prevent you from developing oral health issues while wearing your aligning trays. Invisalign has their own cleaning system that you can purchase, but you can also use a nonabrasive toothbrush, clear hand soap, and room temperature water. Remember to avoid using hot water because it could permanently warp the plastic. It's also a good idea to lay towels down on your sink and/or floor to minimize the chances of your aligners cracking or breaking if you drop them.
What Should I Do if I Break or Lose an Aligner?
If you lose or break an aligner, call our office right away. Dr. Amos will provide you with the best recommendation based on your smile. Typically, he will ask that you wear your previous aligner in the series until he can get you your replacement. While this won't progress your treatment, it can successfully maintain your results during the wait for a new aligner. The easiest way to prevent misplacing or damaging your Invisalign is always to keep your aligners in your mouth or in your carrying case!
What Happens When I'm Done with Treatment?
When you're done with Invisalign, you'll come back into our office, where Dr. Amos will give you a retainer to wear. This is a device that you'll wear to ensure the success of your Invisalign. At first, your retainer should be worn consistently, then you can switch to nighttime use. Eventually, you may not even have to wear a retainer at all! This imperative final step protects your investment and your newly aligned smile, giving you beautiful results for years to come.
For any additional questions, please don't hesitate to contact our office today!