Root Canal Therapy – The Colony
Saving and Strengthening Damaged Teeth
Root canals tend to have a bad reputation, but in reality, they save your teeth from extraction and prevent damage in the future. Whether it's severe decay, trauma to the face, or an infection, a root canal may be necessary to keep your natural tooth. Dr. Austin Amos provides expert root canal therapy in the Colony to save your natural teeth and protect them from pain and damage down the road. Contact Ridgepointe Dental if you're experiencing any pain or discomfort in your teeth.
What is a Root Canal?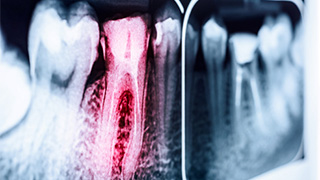 A root canal is a procedure that cleans out and removes damaged or infected tissue from the inside of your tooth. The most common reason for needing a root canal is severe tooth decay that has penetrated your protective layer of enamel. If root canals didn't exist, the only option would be to extract your decayed and damaged tooth. However, root canals do the important job of maintaining your tooth structure, while removing any decayed or infected tissue that can cause damage down the road. Besides decay, you may also need this procedure for facial trauma, damaged teeth, or infection.
Why Do I Need a Root Canal?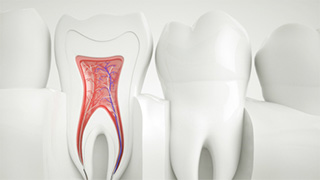 While the most common cause of needing a root canal is plaque buildup that leads to decay, you may also need a root canal for an infection or toothache. Dr. Amos will carefully examine your mouth to find the cause of the problem. You may also need a root canal if you notice any of these common signs and symptoms:
Pain or sensitivity in a tooth or teeth
Swollen gums or face
Pimple-like bumps (abscesses) on your gums
Discolored tooth
Does a Root Canal Hurt?
Despite the common misconception that root canals cause pain, they actually alleviate it. Dr. Amos will make sure your root canal therapy is as comfortable as possible by numbing your mouth and keeping you relaxed. Once you're numb, he will remove all of the infected or damaged tissue in your tooth and fill it with a biocompatible material called gutta percha. This material seals the inner portion of your tooth, which will prevent future pain and damage.
Recovering from a Root Canal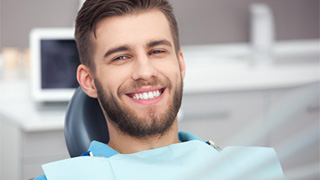 Most patients find that the pain they have before getting a root canal is much more significant than any discomfort that occurs after the procedure. You should only feel mild soreness and sensitivity for a few days after your root canal therapy. It's key to your recovery to practice good oral healthcare like brushing and flossing, and you should also try to eat mostly soft foods immediately after. Dr. Amos recommends taking over-the-counter pain medication to deal with any soreness, but if you still feel discomfort for more than a few days after treatment, you should contact Ridgepointe Dental to get out of pain as soon as possible.