Root Canal Therapy – The Colony
Saving and Strengthening Damaged Teeth
Root canals tend to have a bad reputation, but in reality, they save your teeth from extraction and prevent damage in the future. Whether it's severe decay, trauma to the face, or an infection, a root canal may be necessary to keep your natural tooth. Dr. Austin Amos provides expert root canal therapy in the Colony to save your natural teeth and protect them from pain and damage down the road. Contact Ridgepointe Dental if you're experiencing any pain or discomfort in your teeth.
What is a Root Canal?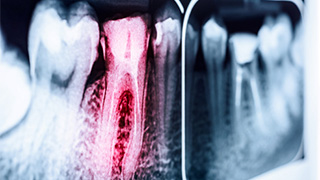 A root canal is a procedure that cleans out and removes damaged or infected tissue from the inside of your tooth. The most common reason for needing a root canal is severe tooth decay that has penetrated your protective layer of enamel. If root canals didn't exist, the only option would be to extract your decayed and damaged tooth. However, root canals do the important job of maintaining your tooth structure, while removing any decayed or infected tissue that can cause damage down the road. Besides decay, you may also need this procedure for facial trauma, damaged teeth, or infection.
Why Do I Need a Root Canal?
While the most common cause of needing a root canal is plaque buildup that leads to decay, you may also need a root canal for an infection or toothache. Dr. Amos will carefully examine your mouth to find the cause of the problem. You may also need a root canal if you notice any of these common signs and symptoms:
Pain or sensitivity in a tooth or teeth
Swollen gums or face
Pimple-like bumps (abscesses) on your gums
Discolored tooth
Does a Root Canal Hurt?
Recovering from a Root Canal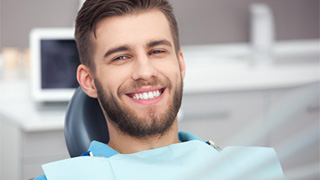 Most patients find that the pain they have before getting a root canal is much more significant than any discomfort that occurs after the procedure. You should only feel mild soreness and sensitivity for a few days after your root canal therapy. It's key to your recovery to practice good oral healthcare like brushing and flossing, and you should also try to eat mostly soft foods immediately after. Dr. Amos recommends taking over-the-counter pain medication to deal with any soreness, but if you still feel discomfort for more than a few days after treatment, you should contact Ridgepointe Dental to get out of pain as soon as possible.
Root Canal Therapy FAQs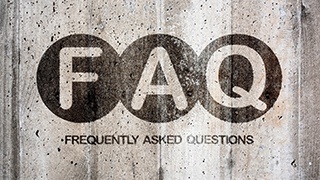 You have probably heard a few horror stories about root canal therapy in The Colony, which might make you a bit apprehensive to schedule your procedure. We understand your concerns, but you don't have anything to fear. We offer the latest solutions to ensure you're comfortable while treating your tooth. To help ease your worries, here are the answers to a few of the most common questions patients ask us about root canals.
Why does the tooth pulp need to be removed?
Your tooth relies on your pulp while it is still forming however, it can survive without it after it has fully developed. The nerve center of your tooth will need to be removed if bacteria have entered the pulp chamber. Bacteria can lead to an infected or abscessed tooth with a pus-filled pocket near the end of the roots. If the infection isn't stopped, it can spread to surrounding teeth and tissues. You can even experience bone loss. Extracting the pulp is the only way to resolve the infection to save your tooth.
Is a root canal painful?
If you're like many people, you're likely concerned about a painful procedure, but root canals have undergone several improvements in recent years. New dental instruments and techniques are used to make the treatment less painful. Not to mention, an anesthetic will be used to numb the area. Nowadays, many people report a root canal isn't any more painful than having a filling placed.
How successful are root canals?
Root canals are very successful when performed by an experienced and qualified dentist. In fact, they have over a 95% success rate. With the right care, your tooth can thrive for a lifetime after the treatment. To promote the longevity of your tooth, a crown is placed over it to provide a protective barrier. While your crown will eventually need to be replaced, your tooth will stay healthy if you commit to your oral hygiene. You can feel confident your smile is in good hands when choosing Dr. Amos for your root canal. Besides earning his dental degree, he regularly continues his training to provide the most up-to-date services. As a member of the Academy of General Dentists and various other professional organizations, he has the experience you can trust to rehabilitate your tooth.
Are there any potential complications?
The risk of complications after root canal treatment is minimal. If a problem arises, it is often because the tooth wasn't properly sterilized before it was sealed, allowing a new infection to emerge. In some cases, unexpected issues can result from more than a normal number of root canals in a tooth, which might leave one uncleaned. If there is an undetected crack near the root of the tooth, a defective dental crown, or a breakdown of the inner sealing material, your root canal can fail. If you develop any pain or inflammation after your treatment, it's best to contact your dentist in The Colony right away to have the problem addressed.