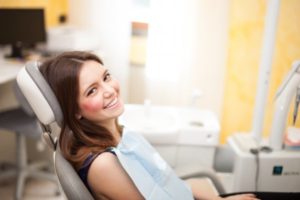 You tell your friends and family that you don't bother going to the dentist for a number of reasons. You practice great at-home care, so there's no reason to visit. You don't want to spend money on another visit to the doctor. You can't stand the feeling of getting your teeth cleaned. Whatever the reason, you believe there's nothing at risk.
According to your dentist in The Colony, you need to think again. Here are three reasons why regular dental visits are always worth scheduling.
Professional Cleanings You Can't Get at Home
Even if you have a fantastic at-home oral care routine, complete with thorough brushing, daily flossing, and the use of fluoridated mouth wash, it isn't going to catch all the plaque from your mouth. It also won't work to remove tartar, a calcified version of plaque that can only be removed by your dentist.
When you visit your dentist, you get treated with professional-grade tools and ingredients that you can't buy over-the-counter. You also get the deep pockets and hard-to-reach areas of your mouth cleaned. Until you commit to seeing your dentist once every six months, you can't honestly say that your oral health routine is complete.
The First Line of Defense Against Oral and Systemic Disease
While getting your mouth routinely cleaned is important, it's only one part of the equation. Visiting the dentist is a lot like visiting your general doctor for a physical exam. The only difference is your dentist is actually more equipped to find systemic disease because of how many markers for disease appear in the mouth first. For years, dentists and other medical professionals have been pushing the fact that regular dental visits are not just good for preventing dental disease, but protecting your overall health as well.
Furthermore, visits to your dentists are essential if you intend on catching oral cancer early. Oral cancer has the potential to develop even when you have no risk factors. Surprisingly, more and more young people are developing oral cancer, and the only way to confirm that it's not present is to visit regularly.
Preventive Care Can Save You Money in the Long-Term
According to your emergency dentist in The Colony, preventive care is the cheapest dental care you can get today. That's because it requires the least amount of effort and expertise to provide. Unlike extensive restorative treatments like root canals, dental crowns, fillings, implants, and prosthetics, preventive care doesn't come with multiple appointments or high price tags.
Rather than wait for dangerous diseases to do significant damage (or put your life at risk in the case of oral cancer), you can maintain your healthy smile and catch serious diseases ahead of time. Schedule an appointment today to confirm your oral health is in good condition!
About the Author
Dr. Austin Amos earned his Doctor of Dental Surgery degree from the University of Texas School of Dentistry in Houston. Since then, he's joined multiple organizations to stay up-to-date on the latest advances in dental techniques and technologies, including through the ADA and the Seattle Study Club. To learn more about his practice or preventive treatments, contact him through his website.