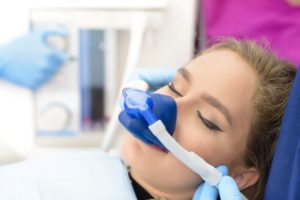 All of us need regular dental care in order to keep our teeth and gums healthy. But many of us find ourselves growing uneasy at the mere thought of visiting a dentist. Does that sound like you? If so, then a sedation dentist in the Colony may be just what you need. Modern sedation techniques enable patients to receive the care they need, free of worry and fear.
How Sedation Dentistry Works
Sedation dentistry techniques have been used successfully since 1846. Over that time, dentists have continuously refined their medications and techniques. Today, dental sedation is remarkably safe and effective. Here's how it works:
Either the dentist or a trained assistant administers the actual anesthetic. This can range from nitrous oxide, also known as "laughing gas," to an intravenous solution that guides the patient into a deep, restful sleep.
The dentist completes the procedure, after which the patient wakes up. Whether he or she can drive home afterward depends on the type of anesthesia use. Your dentist will discuss these details with you during your initial appointment.
If you underwent an advanced procedure, then you may notice mild drowsiness for the first day or two after your office visit. On the other hand, sedation drugs like nitrous oxide wear off almost immediately, allowing the patient to go about his or her daily business right away.
Types of Sedation Used in Dentistry
There are three major types of dental anesthesia:
The first is the aforementioned nitrous oxide. This is usually administered through a face mask. The effect is similar to being deeply relaxed yet still awake. Afterwards, your dentist may recommend that you limit food intake for the rest of the day.
The second type of sedation is an oral sedative. This will probably make you feel drowsy; and, in fact, you may very well sleep throughout the procedure. With this type of sedation, it's important to avoid food or drink after midnight on the night before your visit.
The most advanced form of dental sedation is administered through IV.. In broader medical circles, this approach is known as "general anesthesia." It's generally reserved for lengthy procedures, such as dental reconstruction surgery. The medication may be administered by either the dentist or a separate anesthesiologist, who will be present throughout the treatment.
Is Sedation Dentistry Safe?
Dental sedation is remarkably safe. However, you should tell your dentist ahead of time if you've ever had an unusual reaction while sedated. Patients who suffer from sleep apnea may require special considerations during sedation dentistry.
Is Sedation Dentistry a Good Option for Child Patients?
In most cases, the answer is a decisive "yes." Dental professionals know how to tailor anesthesia to match the special needs of younger people. Your dentist can give you more information.
Nowadays there's no reason to let fear or anxiety keep you from getting the dental care you need. Talk to your dentist in the Colony soon about the sedation options mentioned in this post; then get ready for a happier, healthier tomorrow.
About the Author
Dr. Austin Amos is a Plano native and an honors graduate of Plano Senior High School. He earned his DDS degree from the University of Texas School of Dentistry in Houston. You can reach his office online or by calling (972) 625-4746.