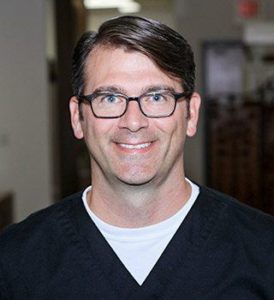 Today is National Dentist Day—a day not only to appreciate the people who care for your smile, but a time to get to know more about your dentist. Dr. Austin Amos grew up in Plano, and he loves serving the community of The Colony at Ridgepointe Dental, a practice that is just 15 minutes away from his childhood home. For National Dentist Day, Dr. Amos wants to share more about why he loves caring for his patients, his appreciation for the city, and why he became a dentist in the first place. Keep reading to learn more about your dentist in The Colony.
Dr. Amos' Story
Unlike most dentists, Dr. Amos had a kind of unlikely path to caring for his patients. He initially got his law dree from the University of Texas. He was a lawyer for 7 years before realizing that he wanted to do something that truly helped people. So, he dropped everything, studied hard, and obtained his Doctor of Dental Surgery from the University of Texas at Houston. Since then, he has been caring for his patients in The Colony and staying up to date on the latest in dentistry through continuing education courses. He has a special interest in restorative dentistry—he likes nothing more than helping patients get out of pain and back to smiling like themselves again.
Your Dentist's Love for The Colony
Dr. Amos couldn't imagine practicing dentistry anywhere else because he simply loves The Colony and all of the patients he serves. There are so many food, shopping, and outdoor activities available, plus the community has a neighborhood quality that is irreplaceable. Dr. Amos and his family are active members of Custer Road United Methodist Church, where they enjoy getting to know more of the people in The Colony.
What Sets Ridgepointe Dental Apart
Ridgepointe Dental has been apart of The Colony for over 30 years, and Dr. Amos takes pride in holding up the wonderful dental tradition of his office. He believes in building relationships with his patients to create a trusting bond that leads to more personalized care. Dr. Amos offer friendly and comfortable dentistry in a state-of-the-art environment. In addition to all of the general dental services you can expect, Dr. Amos also provides treats like orthodontics, sedation, children's dentistry, dental implants, and much more. He also gives back to the community by donating his services through Dentistry from the Heart—a program that is dedicated to providing care for patients who normally don't have access to it.
All in all, your dentist loves The Colony and his patients. Thank you for supporting Ridgepointe Dental and learning more about Dr. Amos for National Dentist Day.
About the Practice
Ridgepointe Dental is a full-service dental practice ready to help patients of all ages. In addition to Dr. Amos, we have an experienced team of dental hygienists and a friendly front desk staff ready to help with your needs. If you have any questions, we can be reached through our website or by phone at (972) 625-4746.