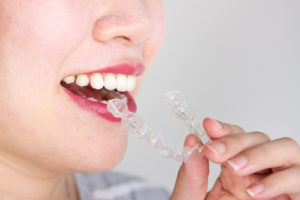 While anyone can benefit from undergoing treatment with Invisalign, there are certain professions that the clear aligners are especially suitable for. As you continue reading, you'll learn what makes Invisalign in The Colony so special and why more and more professionals are turning to Invisalign to advance their careers!
How Invisalign Works
Instead of metal brackets and wires, Invisalign uses a series of custom designed clear-plastic trays to move teeth to their correct position. The process starts with a dentist conducting a careful smile assessment to determine your eligibility. Additionally, a digital smile plan is developed that provides a glimpse of how you'll look after your treatment has completed.
A series of digital images and measurements are then sent to a trusted Invisalign lab that will fabricate your first set of aligner trays. After you're fitted and any necessary adjustments are made, the remaining aligners will be ordered from the lab as your treatment proceeds, with each set of trays being worn for two-week increments.
Why Certain Professionals are Choosing Invisalign
Most adults aren't fond of the idea of displaying a metallic smile. This is especially the case for people who work in the following professions:
Car sales
Acting
Singing
Retail
Broadcast journalism
The food service industry
In a study funded by the American Academy of Cosmetic Dentistry, researchers found that participants responded more favorably to images of people with attractive smiles than those with flaws. Other studies show that people with straight, white teeth are more likely to be hired or promoted over those with broken, crooked or discolored teeth.
The Benefits Invisalign Offers Busy Professionals
With their clear and low-profile design, Invisalign allows you to straighten your teeth in a discreet manner. Here are some of the other career benefits:
Confidently engage clients – Knowing that your smile is being improved can provide a huge confidence boost, which can have a positive effect on clients.
Maintain a more mature appearance – The last thing you want is to look like a teenager with metal braces. By wearing the discreet Invisalign trays, you'll look more professional.
Remove the trays when necessary – If you need to meet with a client over lunch, you won't have to worry about the embarrassment of having food lodged between your teeth. With Invisalign, you can simply remove the trays and replace them when you're done.
You may still be wondering, "Can Invisalign help me?" To find out, contact a local dentist to schedule a consultation. While you're there, you can get all the details you need to make an educated decision about how to fix your smile. By taking action, you can experience a host of positive effects in your professional life!
About the Author
Dr. Austin Amos is a graduate of the University of Texas School of Dentistry in Houston. As an avid learner, he has stayed up-to-date with the latest advances in dentistry by taking several hours of continuing education classes annually. A member of the Academy of General Dentistry, Dr. Amos infuses passion and a constant drive for excellence into every visit. He creates gorgeous smiles with Invisalign at Ridgepointe Dental, and he can be reached for more information or to schedule a visit through his website.