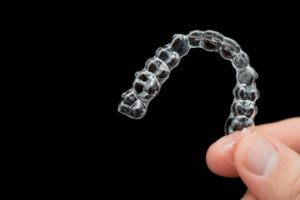 Before going to work, you take your Invisalign aligner out and set it down on the kitchen countertop while eating breakfast. After all, you're just having a quick bite, so there's no harm in leaving it out for a few minutes, right? Once you're done eating, you realize you're somehow missing an aligner! You might get anxious if you're unsure of what to do next. Fortunately, your dentist in The Colony is here to share some steps you should take after losing a tray.
Don't Advance to Another Tray Early
If you lost an Invisalign aligner, you might be tempted to keep it a secret from your dentist and just advance to the next phase of treatment. Well, since your trays are designed to shift your teeth gradually, advancing too early can actually hinder your treatment plan. Your best course of action is to contact your dentist (see next tip), let them know about your situation, and ask what they recommend. If you were almost at the end of the previous phase, they might suggest you try the next set of aligners to see if they fit.
Contact Your Dentist
Are you afraid to tell your dentist you lost your aligner? You shouldn't be since many patients find themselves in this predicament. You're certainly not the first person to ask them for help. It may surprise you to learn the cost of treatment usually includes two built-in replacement trays. That means they can easily replace the aligner you've lost without any additional charges or fees.
Act Quickly
Losing an Invisalign aligner is not a dire situation, so don't stress about it too much. However, you also want to avoid waiting too long to report the loss to your dentist. It's best to let them know as soon as possible so they can order a replacement quickly. That way, your treatment will only be set back a week or two rather than a month or more.
How to Avoid Losing an Aligner
The best way to avoid losing your aligner is by staying aware of where it is at all times. Here are a few tips to help in that regard:
Keep your Invisalign aligners in a set place when you're not wearing them.
Do not take them out of your mouth unless absolutely necessary. They should only be removed when eating or drinking anything that's not water, before cleaning your teeth, and when it's time to clean your plastic trays.
Always store them in their designated case. Do not place them on a lunch tray or table or wrap them in a tissue or napkin. Otherwise, you could easily misplace them or accidentally throw them away.
Did you lose an Invisalign aligner? Don't panic – stay calm, take a deep breath, and follow the steps outlined above. With the help of your dentist in The Colony, you'll be back on track toward your dream smile in no time!
About the Author
Dr. Austin Amos earned his dental doctorate from the University of Texas School of Dentistry in Houston. He's a member of the American Dental Association and the Academy of General Dentistry. If you are interested in Invisalign, Dr. Amos can get you started to correct teeth that are crowded or gapped, as well as fix overbite, underbite, or crossbite. Schedule a consultation on his website or call (972) 625-4746.