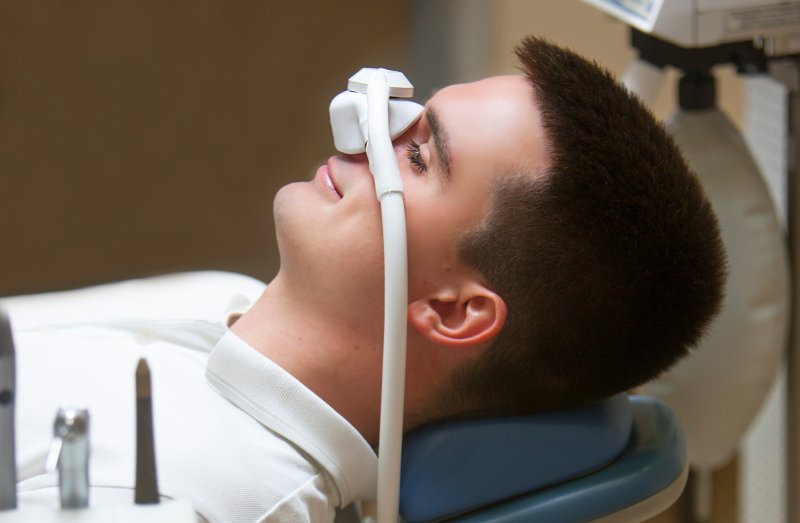 Most dentists recommend seeing them for regular checkups and cleanings at least twice a year. However, for people with dental anxiety, even managing that can seem like an impossible task.
There are all kinds of people who are nervous at the dentist's office for various reasons. For them, sedation dentistry can make everything from routine care to restorative procedures considerably easier. Nitrous oxide is one of the most popular sedatives, but like all drugs, some people wonder about its safety. If you're curious, here's more information about nitrous oxide sedation, and what it can do for you.
Is Nitrous Oxide Safe?
You may have heard a bit about nitrous oxide. So-called laughing gas shows up in movies all the time, and the reputation it has as being dangerous when used recreationally can turn some people off of it in a dental context. However, your dentist is a professional, and knows the risk of overusing any of these drugs. When administered by a dentist, nitrous oxide comes with essentially no risk.
How Does Nitrous Oxide Feel?
When people hear "sedation," they might think of something more intense than what it actually entails. Nitrous oxide will keep you conscious, but will relax you for the duration of the procedure; you'll still be able to respond to instructions from your dentist, but the procedure as a whole will be a lot more enjoyable.
Is Nitrous Oxide Right for Me?
Now that you know that safety is nothing to be worried about, it's worth talking a little bit about who it could be good for. There are quite a few different drugs at a dentist's disposal to help you deal with anxiety, and among them, nitrous oxide tends to be the weakest. It also sets in and wears off quickly, making it more convenient than some other options.
If you're just looking for something to take the edge off of a routine appointment, nitrous oxide is a great option. If you're curious, you could always talk to your dentist about whether it would be good for you.
About the Author
Dr. Austin Amos is a dentist who loves being able to make his patients feel special, and no matter who you are or what you're dealing with, he'll take the time to understand your unique needs and how he can help you. Dr. Amos received his Doctor of Dental Surgery from the University of Texas School of Dentistry in Houston, and he stays up to date with the latest in dentistry with the American Dental Association.
If you have any questions about sedation dentistry, he can be reached at his website or by phone at (972) 625-4746.