Dental Bridges – The Colony, TX
Seamlessly Replace One Tooth or Several in a Row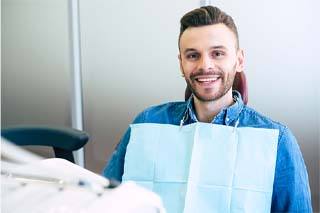 For the 120+ million Americans struggling with tooth loss, day-to-day activities like smiling at your neighbor, chewing delicious foods, and enunciating properly are a chore. While dentures are one of the most popular tooth-replacement options out there, there is another solution for patients missing one tooth or several in a row: a dental bridge. Keep reading to learn more about this popular restorative treatment, or get in touch with our skilled dentist in The Colony to schedule an appointment !
What Is a Dental Bridge?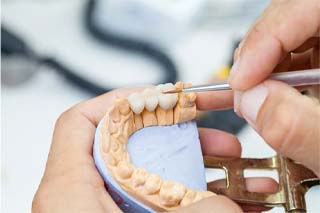 In the case of a single missing tooth or a few in a row, a dental bridge in The Colony is an excellent way to replace them and prevent a patient's teeth from naturally shifting into the gap. A bridge is composed of prosthetic teeth that are attached to dental crowns placed on either side of the space in a person's smile. A patient may want to consider getting a dental bridge if:
They have two or more missing teeth that are right next to each other.
They have dental damage that is affecting two or more teeth next to each other, enough to replace them.
They don't have adequate enough jawbone density to use dental implants to replace teeth.
Types of Dental Bridges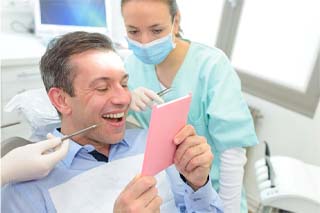 For years now, Dr. Austin Amos has dedicated his days to helping patients with tooth loss rebuild their smiles. If a dental bridge is the best solution, then he will help you determine which of the below types are ideal for you:
Traditional Dental Bridge
A traditional bridge replaces one or more missing teeth with two dental crowns and a prosthetic tooth. Although this will require the teeth on both sides of the gap to be prepped for dental crowns, the bridge can last for a decade with proper care, ensuring you enjoy a full smile and strong bite both now and for years to come.
Implant Bridge
Implant bridges are similar to traditional alternatives, but they are different in one important way: they utilize dental implants. In this case, a dental implant is placed on both sides of the gap before the bridge is attached. The result? A lifelike, durable, and stable tooth-replacement solution.
The Benefits of Getting a Dental Bridge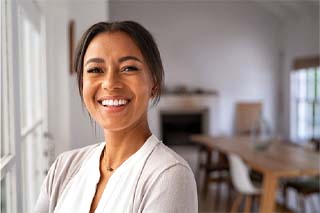 Replacing one or more consecutive teeth with a dental bridge comes with numerous benefits, including:
Preserved alignment of existing teeth
Hassle-free oral hygiene regimen
15+ year lifespan
Natural-looking restoration
Complete personalization
Life without teeth can take a toll on your smile, bite, and speech. Thanks to dental bridges, however, you can enjoy your life to the fullest again! To take the next step, get in touch with our dental team.