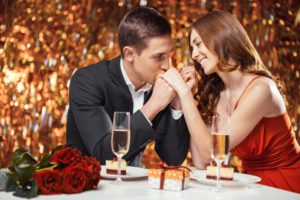 One of the most heartfelt holidays are approaching: Valentine's Day! Are you ready for your big date? You can't be if you don't love your smile.
Thankfully, your cosmetic dentist in The Colony offers a variety of quick, effective cosmetic services that can improve your smile for the better. Explore your different options before the big day comes!
A Great Smile Can Land You That Second Date!
Is Valentine's Day going to be you and your crush's first time really going out? Have you made fancy reservations and even bought them a thoughtful gift? Nothing could ruin your date faster than smiling across the candlelit table with a mouth full of discolored or crooked teeth!
In fact, there are studies that prove that people are more likely to land a second date when they have a straight, bright smile compared to those who have a few imperfections in their teeth. Learn how your cosmetic dentist can help you seal the deal this Valentine's Day!
Cosmetic Dental Services to Explore
Porcelain Veneers
Porcelain veneers allow you to make multiple changes to your smile without having to visit your local dental practice several times. Simply undergo one procedure and have your most embarrassing flaws permanently masked with thin sheets of customized dental porcelain!
Metal-Free Restorations
When damaged teeth are ridden throughout your smile, you won't be able to show off your teeth and gums the way you want to. Metal-free restorations allow your dentist to repair those damaged teeth without leaving dark spots of metal throughout your mouth!
Direct Bonding
If you have a few chips or cracks in your smile, they can easily be filled with a material known as composite resin. The material matches your teeth naturally. In just a simple appointment, you'll have a brand new looking smile!
Professional Teeth Whitening
Unfortunately, teeth will become stained over time and from a variety of factors. The foods and drinks we consume can change our teeth's color as well as our lifestyle habits. That's why your dentist offers fast teeth whitening in our office with Zoom! Professional-grade teeth whitening. We also offer safe, gradual teeth whitening from the comfort of your own home with custom take-home kits.
Get Started Today
Waiting to the last minute can prolong your ability to prepare for the big day: February 14th! Call our office today to schedule your cosmetic consultation now! We would be happy to give you an extra boost of self-esteem for your lovely date.
---
About Our Office
One thing that we know here at Ridgepointe Dental is that you'll definitely benefit from loving your smile. When you have confidence in your teeth, you'll carry yourself in a different way and have a smile that you can't stop showing off. Plus, you'll wow your partner with bright, shining teeth and self-esteem to match! Call us today to schedule your visit.