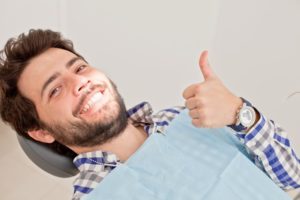 Do you have missing teeth? We know that a gap in your smile may leave you with less confidence and an obvious cosmetic problem, but what if we told you that how your smile looks should be the least of your worries if you are missing a tooth? Missing teeth can cause a variety of oral health issues, which is why it is important to replace them as soon as possible. Read more to find out the dangers of not replacing a missing tooth from your trusted dentist in The Colony.
Dangers of Not Replacing Your Teeth
Adults can be missing teeth for a variety of reasons like genes, disease, physical injury, and more. No matter how your teeth are missing, it is vital that you get them replaced as soon as possible for the following reasons:
Shifting teeth: Each of your teeth lean on each other for support so when a tooth is missing, the neighboring teeth will start to move into the gap. This causes crooked teeth and changes how your smile fits together.
Cracks and fractures: Because you do not have the support of your full set of teeth, more pressure is applied to the teeth you have left. This creates a higher chance of dental fractures.
Bone loss: When you don't replace your missing teeth, your jawbone will start to shrink. The bone needs stimulation like biting and chewing to keep from deteriorating and even just one missing tooth can affect your jawbone.
Gum disease: Missing teeth can increase the likelihood of gum disease because it leaves your gums more exposed to harmful bacteria.
Eating troubles: Tooth loss makes chewing and biting difficult, so a lot of people adjust their diet accordingly. This too can have negative effects because you may not be getting the proper nutrients your body needs. Foods like apples and carrots are healthy, but they are hard to chew without a full set of strong teeth.
Issues with TMJ: Temporomandibular joint (TMJ) disorder can occur when your teeth have shifted due to missing teeth. This is a painful condition that makes your joints and muscles in and around the jawbone hard to control.
Different Tooth Replacement Options
There are different types of tooth replacements and their benefits vary based on your oral health needs. See which option would be best for you below:
Dental implants: These are posts that are surgically placed in the gap of your teeth. They act as the tooth's root and are a sturdy anchor for your replacement teeth. They are the most similar to a natural tooth, but they can only be effective if you have enough jawbone to support the implant.
Fixed Bridges: This method literally bridges the gap created by one or more missing teeth. Most bridges are made of porcelain fused with metal to create a supportive and strong replacement. After the bridge is in place, your dentist will attach custom restorations to return your smile to its full potential.
Full and partial dentures: These are replacement teeth attached to a plastic base that matches your gum color. They are removeable, convenient, and cost-effective so if you struggle with commitment these may be the right option for you.
No matter which type of replacement you end up deciding on, the most important step is that you work on rebuilding your smile sooner rather than later. Now that you know the possible dangers of not replacing your teeth, contact your local dentist to discuss your options.
Meet The Dentist
Dr. Amos is a Plano native who always keeps up to date with the latest practices and dental techniques through the American Dental Association and Academy of General Dentistry. He is ready to help you with any tooth replacement needs at Ridgepointe Dental and can be contacted by phone at (972) 625-4746.