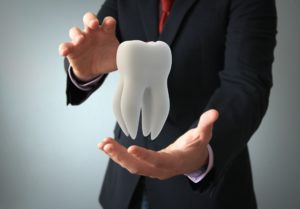 Believe it or not, we've just about reached the end of another year. As you plan warm meals with your family and shop for the perfect gifts, the last thing you're thinking about is a trip to your dentist. The next few weeks are going to be busy, but don't wait until the new year to schedule an appointment. You're going to lose your dental insurance benefits in The Colony if you don't see your dentist now.

How Does Dental Insurance Work?
Dental insurance works a bit differently than your medical coverage because there are yearly limits and maximums. You pay a premium each month for your specific policy. This allows you to get the preventive appointments your smile relies on for only a small co-payment. If a problem arises, it doesn't need to be left untreated. Your insurance will cover a portion of the treatment's cost after paying your annual deductible. You're given a yearly allowance for restorative care, which is usually around $1,500. Although every policy differs, most plans include:
100% preventive care.
80% minor restorative care.
50% major restorative care.
Why Do I Need to See My Dentist Now?
Although your schedule may be a bit busy, make the time to see your dentist in The Colony. Your dental insurance will expire at the end of the year. You won't be compensated for any unused benefits, and they won't carry over into the new year to accumulate. If you don't use all your coverage, you won't be reimbursed for your premiums or your deductible. You'll lose hundreds to thousands of dollars that could have been spent on keeping your smile healthy.
How Can I Make the Most of My Dental Insurance?
Dental insurance is designed with prevention in mind because it lowers your overall oral health expenses. Every $1 spent on prevention can save you $8 to $50 on restorative or emergency services. Your dental benefits make it easy to get the routine cleanings and checkups you need to keep your teeth and gums healthy to prevent needing a costly treatment in the future. Your dentist can also detect issues early to provide an affordable solution to restore a healthy smile.
Your dental insurance will recommend you visit an in-network dentist to reduce the amount you need to pay out-of-pocket, but you can still choose one that's outside of your network. They will work on your behalf with your insurance company to file the necessary claims and paperwork to make the most of your coverage.
Schedule an Appointment Today!
Less than 3% of Americans meet or exceed their annual allowance. Don't lose the money you've paid into your dental coverage all year. Visit your dentist today to get a healthy smile for the new year.
About Dr. Austin Amos
Dr. Austin Amos is a reputable general and emergency dentist in The Colony for personalized dental care. Besides earning his dental degree, he also remains up to date with the latest techniques and methods to help his patients achieve their oral health goals. He works with many insurance companies to keep his services affordable. Contact our office today to schedule an appointment.