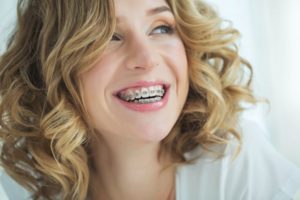 When you hear the word "braces," you likely automatically think about a teenager with a mouth full of metal. The reality is that adults often benefit from undergoing orthodontic treatment, too. Whether faced with a gap between your teeth, overcrowding, a poorly aligned bite, or crooked teeth, adult orthodontics in The Colony can be a viable solution if you want to improve the health and aesthetics of your smile. With many available options, it's now easier than ever to get the perfectly straight teeth you've always wanted, and you likely won't need traditional metal braces to do it!
What Is Adult Orthodontics?
Adult orthodontics can include everything from clear aligner systems (i.e. MTM clear aligners, Invisalign) to traditional braces to Six Month Smiles, which is an alternative solution to regular metal fixtures that produce faster results.
The reason so many dentists offer orthodontics to more than just teenagers is because adults can benefit from it just as much as younger patients. When common issues such as spaces between teeth, crowding, or a misaligned bite are present, these can increase your chances of experiencing complications (such as cavities and gum disease) that can negatively impact your smile and its future. Fortunately, adult orthodontics can be used to correct these issues and prevent many problems before they start.
What Are the Benefits of Orthodontics as an Adult?
As an adult who is contemplating the idea of orthodontics, you may have a million questions you want to ask your dentist, one of which is, "What are the benefits?" Apart from enhancing your smile's aesthetic by properly aligning your bite and teeth, additional advantages include:
Improving your oral health and lowering the risk of potential decay and disease in the future
Boosting your confidence so that you feel as good as you look
Allowing you to improve your smile and minimize the need for restorative care in the years to come
Aligning your bite can help to reduce tension in the face that causes headaches
Orthodontics can help make any dental restorations last longer
Any form of orthodontic treatment can make dental hygiene easier to maintain
Based on the findings of your examination, your dentist can recommend the treatment that is right for you. By committing to the orthodontic process, you will reap the many benefits and rewards of a new and improved smile.
About the Author
Dr. Austin Amos earned his Doctor of Dental Surgery degree from the University of Texas School of Dentistry in Houston. An avid learner, he remains committed to pursuing continuing education courses and training on the latest advancements in dentistry and technology. He and the team at Ridgepointe Dental offer comprehensive care including orthodontics for adults. If you believe you could benefit from this form of treatment, contact us via our website or call (972) 625-4746.