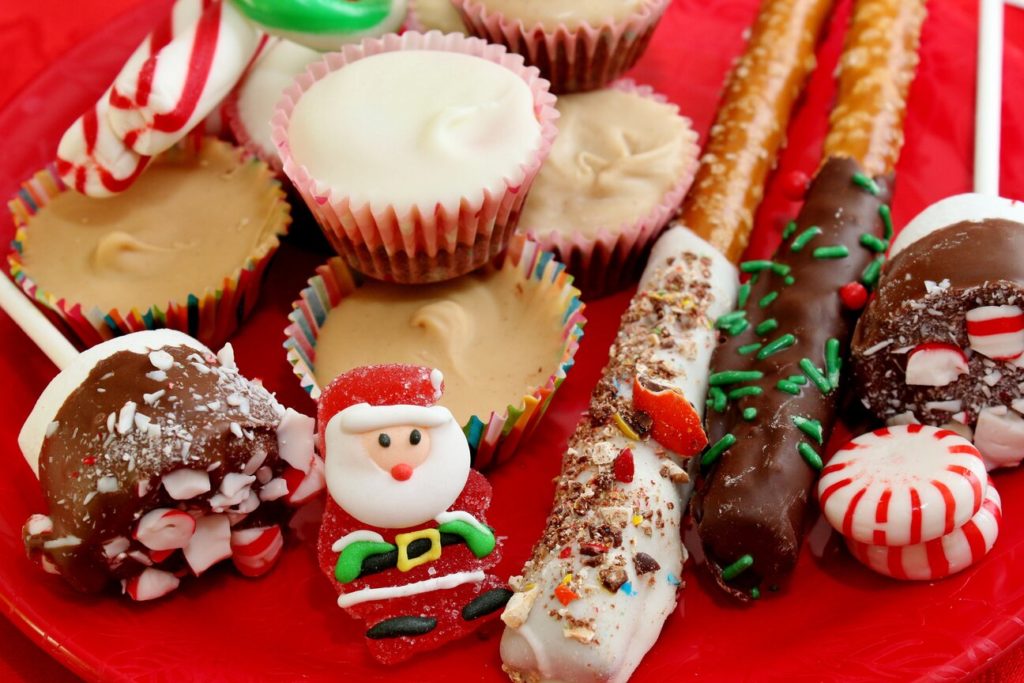 From the giant pie your mom bakes just for you every Christmas to the plate of cookies your neighbor brought by yesterday, it's nearly impossible to avoid the high-carb and sweet foods of the holiday season. These holiday foods may be delicious, but they can do some serious harm to your oral health. Read on to learn five tips that will help you make it through the holidays without ruining your teeth.
Tip #1: Brush
Brush your teeth twice per day for two minutes with a soft-bristled toothbrush to prevent damage to your tooth enamel. Use toothpaste that contains fluoride to help strengthen your teeth and make them less likely to develop cavities. Though this is always a vital part of maintaining a healthy smile, the increased number of unhealthy foods during the holidays arguably makes it more important than ever.
Tip #2: Floss
Floss at least once per day to remove plaque and food particles from between your teeth. Since you'll likely eat up eating more sweets than usual during the holidays, consider flossing even more often to lessen your chances of tooth decay. You can also carry around a dental kit with a travel-sized toothbrush, floss, and toothpaste so you can freshen up and clean your teeth no matter where the day takes you.
Tip #3: Drink Water
Dry mouth occurs when there isn't enough saliva being produced and can lead to a range of oral health issues, including cracked lips, increased plaque levels, mouth sores, bad breath, cavities, and gum disease. Drinking spiked eggnog or other alcoholic seasonal beverages can also lead to dry mouth. To counteract this, be sure to stay hydrated by drinking plenty of water throughout the day.
Tip #4: Skip Sweet, High-Carb, and Sticky Foods
Taffy, caramel apples, and other sweet, sticky holiday treats are hard to wash away, which gives oral bacteria plenty of time to feast on them and release acids that attack your enamel and raise your risk of developing cavities. Additionally, starchy and carb-heavy foods like rolls and mashed potatoes are broken down into sugar during digestion, so they damage your teeth in the same way as sweets. Cut back on the starchy foods and replace desserts with dark chocolate or sugar-free candy. These are much easier to wash away, and sugar-free hard candy increases saliva production.
Tip #5: Eat Protein
Eat protein-packed meats and vegetables like turkey, chicken, fish, asparagus, peas, Brussels sprouts, and broccoli. Protein contains a mineral called phosphorous, which helps protect your enamel, strengthens the jaw, and improves your overall bone density. So, by eating protein instead of sweet and starchy foods, you'll fill your belly while also protecting your pearly whites.
Moderation is the key to maintaining good oral health, so make sure to limit your intake of carb-heavy and sweet foods. Cutting back on the cookies may be difficult, but it's worth it to ensure that your smile stays as healthy as possible!
About the Practice
Dr. Austin Amos and his talented team at Ridgepointe Dental strives to help their patients learn how to better care for their oral health so they can maintain bright, beautiful smiles. They offer residents of The Colony unmatched service with a smile and can offer advice on how to survive the holiday season with your dental health intact. Call Ridgepointe Dental at (972) 625-4746 or visit their website for more information on how to take care of your teeth this holiday season or to schedule an appointment