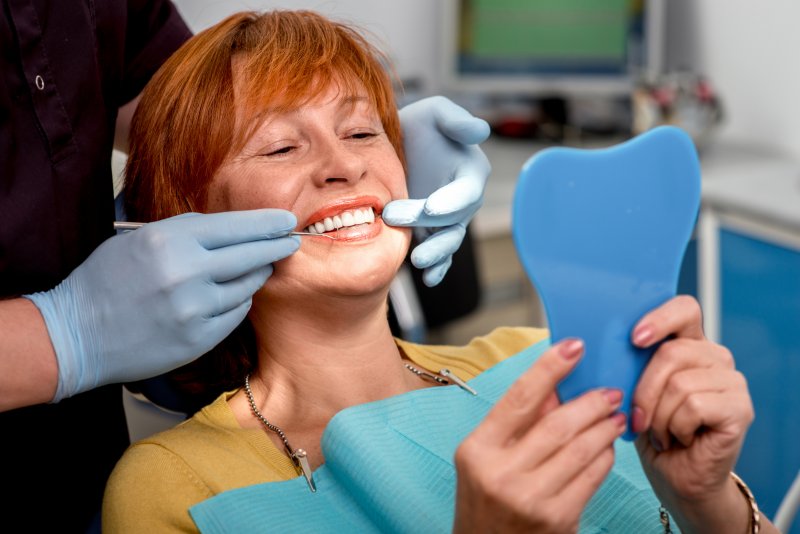 As a woman, one phase in life you have to look forward to is menopause. It's a completely natural part of getting older! During that time, there are several hormonal changes that occur. Well, these changes affect many parts of your body – like your smile. So, if you want to replace your missing teeth with dental implants in The Colony, you may be wondering if it's even possible for post-menopausal women. Read on to find out how menopause affects oral health and the dental implant process.
How Does Menopause Affect Your Smile?
You may be surprised to learn that menopause can affect your smile in several different ways. Let's take a closer look at some changes you can expect:
Gum Disease: The hormonal changes that occur during menopause can increase blood flow to the gums, making the tissue swollen and more susceptible to plaque buildup. Ultimately, this can lead to gum disease. If left untreated, your condition can result in gum recession, jawbone deterioration, and tooth loss.
Jawbone Loss: Estrogen is a hormone that plays a crucial role in bone health. Since levels decrease during and after menopause, post-menopausal women may be at risk of osteoporosis.
Dry Mouth: Another common side effect of menopause is dry mouth. If your mouth doesn't produce enough saliva, food particles and other unwanted bacteria are left behind, increasing your risk of issues like gum disease and tooth decay.
Can Post-Menopausal Women Get Dental Implants?
Absolutely! Of course, you must remember that there are several factors that influence the success of dental implants. You can easily increase your chances of successful treatment by taking all the right precautionary steps. During your consultation, you will discuss your dental and medical history with your dentist to determine whether or not you're eligible for this treatment. Based on your discussion, you may need to undergo certain preliminary treatments like gum disease therapy or bone grafting. These procedures are necessary before getting dental implants to ensure the best results.
Just because you went through menopause doesn't mean you're unable to get dental implants. By working with your dentist, you can create a custom treatment plan that works best for your smile!
About the Practice
At Ridgepoint Dental, we've helped multiple generations of families achieve healthy and beautiful smiles. From routine checkups to state-of-the-art dental implants, our practice offers comprehensive services to ensure every patient maintains optimal oral health. If you're a post-menopausal woman interested in this modern tooth loss solution, don't hesitate to reach out. We can get you started with a consultation! You can make an appointment via our website or call (972) 625-4746.