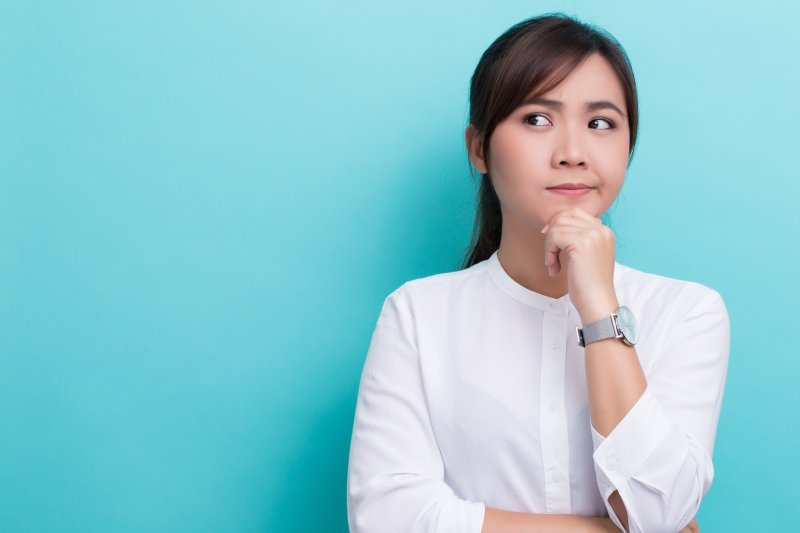 It may feel overwhelming if you've lost a permanent tooth, especially when you have to consider different options to replace it, such as a dental implant. However, if the one that's missing was in the back of your mouth, you may not even see the gap whenever you talk or smile. While this may not bother you at first, potential oral health complications might occur down the road. Keep reading to learn five reasons why you should replace a missing back tooth.
#1: Shifting, Crooked, & Tilting Teeth
Did you know your teeth help each other stay upright and in position? Whenever one goes missing, the others can begin to move into the space, compromising their position and stability. Even if the tooth is in the back of your mouth, this can cause a domino effect that can result in a crooked and uncomfortable smile.
#2: Difficulty Chewing & Digestion Problems
Your front teeth are designed to rip and tear your food while your molars are meant for grinding and chewing up your meals. If one of them in the back goes missing (other than a wisdom tooth), it can make it both uncomfortable and challenging to eat. Additionally, consuming partially-chewed food can even lead to digestion problems.
#3: Older Appearance
The roots from your teeth help preserve the jawbone by stimulating blood flow into the tissue. Once pearly whites go missing, your facial shape can start to deteriorate. This can result in a sunken and aged appearance, as your bone tissue will begin to shift and lose its structure.
#4: Jaw Stiffness & Soreness
Your molars are designed to help preserve a more even bite. However, losing one of them can cause you to start chewing primarily on one side of your mouth. The longer this goes on, the more your jaw muscles and joints will be strained, leading to soreness and stiffness. This can even result in TMJ disorder, which might require surgery to treat it.
#5: Increased Risk of Oral & Overall Health Issues
A missing tooth can allow food debris, harmful bacteria, and plaque to collect in the empty spot left behind. This can place your smile at risk of more serious oral health problems, such as gum disease, decay, and infections. If the bacteria becomes strong enough, it can escape into your bloodstream and impact other vital areas of your body, raising your chances of developing conditions like heart disease or diabetes.
Now that you know the complications that can come with missing a back tooth, it's a good idea to consider replacement options. If you want a solution for all five of the above concerns, consult your dentist about dental implants to preserve a strong and healthy smile!
About the Author
Dr. Austin Amos earned his dental doctorate from the University of Texas School of Dentistry in Houston. He also regularly seeks continuing education to refine his skills and is a member of several organizations like the American Dental Association and the Academy of General Dentistry. He provides a wide selection of high-quality treatments, including dental implants. If you'd like to schedule an initial consultation, visit his website or call 972-625-4746.