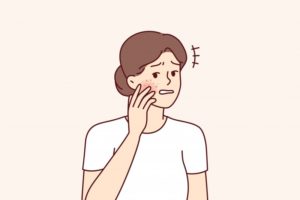 There are many reasons why you may experience facial discomfort, which is most often felt in the cheeks or forehead. Since it refers to a symptom rather than a condition, there several potential underlying causes. In some cases, the problems can be difficult to navigate on your own. The first step to receiving effective treatment is understanding the possible facial pain causes. Read on to help determine the root cause of your discomfort and if it is a dental emergency.
Dental Abscess
Known as an infection of the soft tissues inside your tooth (pulp), a dental abscess occurs when bacteria infiltrate your teeth's vulnerable nerves and blood vessels. This is typically the result of tooth decay, gum disease, or injury.
If you're experiencing facial discomfort, keep an eye out for the following symptoms of an abscessed tooth:
Persistent, throbbing, or chewing pain
Tooth or gum sensitivity
Swollen or red gums
Bitter taste in your mouth
Fever
Seek treatment right away if you suspect you have a dental abscess – this condition will not heal on its own! Fortunately, your dentist can help treat this condition, prevent it from reoccurring, and share tips to help you manage your pain.
Dry Socket
Have you recently had a tooth removed? If so, and you're experiencing pain, you likely have a condition known as dry socket. It happens when blood doesn't properly clot at your tooth extraction position, causing your nerves and bone to become exposed. Common symptoms of dry socket include persistent pain, visible loss of the blood clot around the extraction site, and a foul taste in your mouth.
Make sure you address the problem as soon as possible to ensure proper clothing. It's necessary for bone growth around the affected area in addition to managing your pain. You can contact your dentist for expert insight into reducing your discomfort and determining whether you require additional treatment.
Temporomandibular Joint Disorders (TMD)
The temporomandibular joint (TMJ) is the mechanism that attaches your jaw to your skull, giving it mobility. Any condition affecting the function of this structure is known as a temporomandibular joint disorder (TMD).
Symptoms of TMD include:
Pain or discomfort around your jaw when chewing or speaking
Limited mobility of your jaw
Clicking sounds when opening or closing your jaw
Misaligned bite
Swelling
Fatigue
If you notice any of these symptoms, contact a dental professional to confirm a diagnosis. Doing so is crucial to managing your pain and addressing the underlying cause.
About the Author
Dr. Austin Amos earned his dental doctorate from the University of Texas School of Dentistry in Houston. He's a member of the American Dental Association and the Academy of General Dentistry. If you are potentially facing a dental emergency, Dr. Amos offers sedation dentistry for comfort, plus dental insurance is welcome and flexible financing is available. You can schedule an appointment on his website, but if it's an emergency, call (972) 625-4746.