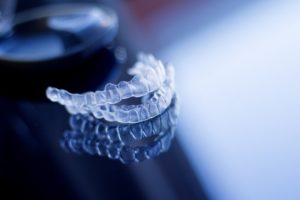 Invisalign has become one of the most popular orthodontics for achieving a more aligned smile. Not only is it very discreet, but it also is very convenient compared to traditional braces. The clear, removable aligners allow you to enjoy all your favorite foods, as well as easily take care of your oral health. However, you may be tempted to take one more step toward convenience by ordering your aligners from mail-in companies, such as Smile Direct Club. While saving time and money may be tempting, ordering aligners online can harm your smile. Read on to learn why it is best to avoid mail-in aligners and stick with visiting a dentist for your Invisalign treatment.
First Things First: What Are Mail-In Clear Aligners?
One of the main things people must consider when getting orthodontics is the cost. Since this sometimes requires some planning, some mail-order businesses decide to entice you with cheaper alternatives. Rather than visiting your local dentist or orthodontist for precise treatment, the company sends you an at-home kit to take impressions of your teeth. Once you mail them in, a technician reviews them and decides you're a good candidate for their aligners. If so, you will receive custom-made aligners, along with treatment instructions.
3 Major Dangers of Using Mail-In Clear Aligners
While this option may seem convenient—and accurate—many dental professionals are expressing their concerns about the use of mail-in order aligners. It is important to be made aware of the hidden dangers that come with this discounted service, including:
#1. You're Not Monitored by a Licensed Orthodontist
When you receive orthodontics, it is important to regularly visit your dentist so they can routinely monitor your progress and make sure your teeth are moving safely and correctly. In addition, they can also check for oral health concerns like gum disease and cavities. These issues can be missed with home kits and can cause serious damage to your smile if left untreated.
#2. Your Treatment Is Not Personalized
In contrast to in-house Invisalign treatment, mail-in clear aligners are sent all at once. Unfortunately, this doesn't allow for any unexpected changes in your teeth and the following necessary adjustments. If your treatment is with a local dental professional, they would be able to track all movements of your teeth and ensure your treatment plan is still going in the right direction.
#3. Your Smile May Become Even Worse
It is truly an awful feeling when you invest time and money into a service, and it ends up not working! As a matter of fact, mail-in aligners may even leave your teeth worse than before. Unfortunately, there have been hundreds of reports from patients that used mail-in clear aligners and claim they made their teeth fall out, cut their gums, and ruined their ability to close their mouths or chew properly. Even worse, some of these companies have you sign a form before treatment that allows them to escape any responsibility for any resulting issues from their treatment.
As you can see, it's best to trust your smile with your local dentist. By receiving your orthodontic treatment from them in person, you are guaranteed to have a beautiful, problem-free smile in no time!
About the Author
Dr. Austin Amos and his team at Ridgepointe Dental keep the smiles of The Colony beautiful and healthy! He earned his Dental of Doctor Surgery from the University of Texas School of Dentistry in Houston and is an active member of several dental associations, including the American Dental Association. He offers a range of comprehensive services, including orthodontics like Invisalign, to help you successfully achieve your oral health goals. To schedule an appointment, contact Dr. Amos through his website or call (972) 625-4746.