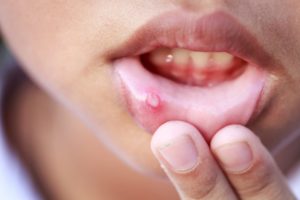 A healthy, comfortable smile can be easily taken for granted on most days. It's not until an oral issue impacts your ability to eat, speak, or go throughout your day with confidence that you realize how precious your oral health is. Canker and cold sores are one of the main culprits that can disrupt your everyday life. Read on to learn the causes of these oral sores and how best to treat them so you can return to a thriving smile.
Canker Sores 101
Canker sores usually form on the gums, inner cheeks, and gums. They are generally small, appearing white and oval with redness surrounding them. You may feel burning or tingling in the infected area before they develop.
While researchers aren't exactly sure what causes canker sores, they do know that they are not contagious so you can't get one through things like sharing utensils or kissing. Possible triggers for canker sores are:
An oral injury or trauma
Deficiencies in vitamin B-12, iron, or folate
Toothpaste or mouthwashes with sodium lauryl sulfate
Hormone fluctuations
Cold Sores 101
Forming mostly on the border of the lips, cold sores are tiny, fluid-filled blisters. Over the course of several days, they typically begin to scab over. Cold sores usually heal after about two to three weeks. They are most commonly caused by strains of the herpes virus (HSV), usually HSV-1. Unlike canker sores, cold sores are contagious through close contact. Once the herpes infection has entered the nerve cells, it remains there. The virus lies dormant until something triggers it, such as stress, fatigue, injury to the skin, or a weakened immune system through illness.
How Can You Treat These Oral Sores?
Canker Sore Treatment
If a canker sore is minor, it usually won't need treatment and will disappear on its own within a couple of weeks. If it is larger or more bothersome, over-the-counter creams and gels with benzocaine or hydrogen peroxide can help. If canker sores occur frequently, you should visit your doctor or dentist so the underlying issue can be treated.
Cold Sore Treatment
To prevent contracting the herpes virus, avoid sharing utensils and coming in direct oral contact with too many people. If a cold sore does occur, it will normally fade on its own, but some topical medicines can ease symptoms and speed up healing. You can also see your dentist for a prescribed anti-viral medication.
Oral health issues like canker and cold sores can be annoying and aggravating. With these helpful tips and help from your dentist and doctor, you can minimize how they impact your life and get back to a happy, healthy smile!
About the Author
Dr. Austin Amos and his team at Ridgepointe Dental are eager to help keep your smile whole, healthy, and beautiful. He earned his Doctor of Dental Surgery degree from the University of Texas School of Dentistry in Houston and is an active member of several dental associations. With a focus on combining old-fashioned friendly care with high-quality dentistry, he offers a comprehensive range of services to keep your oral health in top condition. To schedule an appointment, contact him through his website or call (972) 625-4746.