Dental Crowns & Bridges
The Building Blocks of a New Smile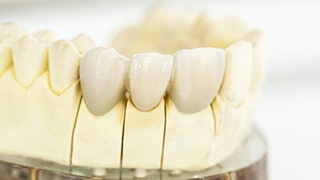 Some of the most common dental problems involve broken, decayed, and missing teeth, but at Ridgepointe Dental, we've been able to rebuild thousands of smiles using tried and true treatments like dental crowns and bridges.
A dental crown is a tooth-shaped restoration that can be used to enhance a tooth cosmetically or reinforce it structurally, and it simply fits over the top of a damaged tooth. It fully encapsulates the tooth in order to help protect it from further decay or trauma, and we always make sure that it seamlessly blends into a patient's smile.
In the case of a single missing tooth or a few in a row, a dental bridge is an excellent way to replace them and prevent a patient's teeth from naturally shifting into the gap. A bridge is composed of prosthetic teeth that are attached to dental crowns placed on either side of the space in a person's smile.
Both of these restorations take at least two visits to be designed, made, and placed, and with the proper care, they can often last for 10 years or more. If you have a cracked tooth, cavity, or some missing, contact us today for an appointment and we'll have exactly what you need.