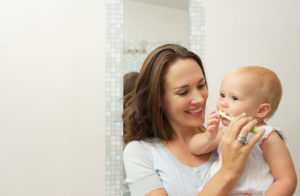 Your baby's first 12 months are filled with milestones – their first smile, the first time they roll over, the first time they crawl across the room. However, did you know that visiting the dentist should be on the list of milestones as well? According to the American Dental Association, your child's first dental visit should take place after their first tooth appears, but before they celebrate their first birthday. Why so early? Keep reading below to learn why you shouldn't wait to make the first trip to a children's dentist in The Colony.
Why You Shouldn't Wait to Take Your Kid to the Dentist
If you wait to take your child to the dentist once their full set of baby teeth have grown in, their mouth may already be in trouble. Baby teeth are more susceptible to decay than adult teeth, so as soon as your son or daughter has teeth, he or she can get cavities. Dentists that treat children are trained to identify any potential issues with the growth and development of the jaw and mouth, including cavity formation. Early intervention is key to ensuring your child's tiny new teeth stay healthy.
A child's first visit to a dentist in The Colony is important for parents as well. It is an opportunity for you to talk with the dentist about how to properly care for your young child's teeth. Your child's dentist will be able to give you advice on how to get your son or daughter started on a lifetime of excellent oral care.
How to Make Your Child's First Visit a Success
Visiting the dentist for the first time can be a bit scary for young children, especially if they have not been prepped ahead of time on what to expect. Here are a few suggestions of what you can do at home with your child to help ensure their first dental checkup is a positive experience:
Choose a family-friendly dentist – Do a little research to select the right dentist's office for your child. A welcoming atmosphere and friendly staff experienced in pediatric dental services can help your son or daughter – and YOU – feel comfortable when it is their turn to hop in the dentist's chair.
Talk to your kids about teeth – It is never too soon to start educating your children about how to take care of their teeth. Incorporate child-friendly books about visiting the dentist into storytime before bed, or perhaps play pretend by having their favorite toy or stuffed animal "go to the dentist for a checkup".
Be a good role model – Babies and toddlers are constantly observing and learning from their surroundings, so make sure they see you brushing and flossing as part of your daily routine. If you set an example of good oral hygiene, your young child will likely want to mirror your behavior.
Your child's first trip to the dentist should mark the start of a lifetime of good oral hygiene that will keep them smiling long into their golden years. So, once you see that first baby tooth come in, do not hesitate to call a children's dentist in The Colony.
About the Practice

One of the first businesses to open in The Colony, Ridgepointe Dental has helped local families maintain healthy, beautiful smiles for over 30 years. Their experienced and welcoming team provides a comprehensive array of dental services suited for the entire family, from senior citizens down to young children. To learn more about Ridgepointe Dental, visit their website online or call +1 972-625-4746 today.