Implant-Retained Crowns – The Colony, TX
Beautiful, Sturdy New Teeth
Your might eventually get used to the way your smile looks after you've lost a tooth, but the effects are actually far more serious than you might think. It will be much more difficult to clean your mouth, and you'll have an increased risk for cavities and other oral health issues. Also, your jawbone will gradually break down and become weaker without the stimulation that it normally gets from chewing and biting. But with implant-retained dental crowns in The Colongy, Dr. Amos can prevent these issues and restore your healthy, dazzling grin.
What is an Implant-Retained Crown?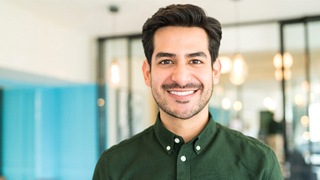 A single dental crown is a tooth-shaped restoration that is often made out of ceramic material. It can be shaded and shaped so that it blends right in with the rest of your natural teeth. While crowns are traditionally placed over natural teeth, they can also be attached to thin titanium posts called dental implants. The purpose of an implant is to act as a "root" for prosthetic teeth. This helps you maintain the strength and size of your jaw, and it also enhances the chewing strength of your crown. The implant itself can last for decades, but the crown might have to be replaced periodically.
Difference Between Traditional Crowns and Implant-Retained Crowns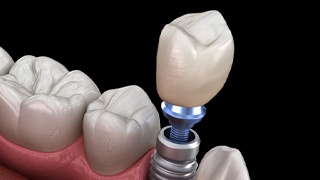 The purposes between traditional dental crowns and implant-retained crowns are very different. Traditional crowns are only meant to repair or enhance teeth that are still in your mouth; they can't fill in gaps on their own. In order to actually replace a tooth with a crown, you'll have to use an implant.
Furthermore, with traditional crowns, prep work usually consists of removing small amounts of enamel to make room for the restoration. This isn't normally necessary for implant placement, but surgery is required to place the posts in your jawbone. It takes two appointments spread out over a few weeks to receive a traditional crown, but the implant process can take at least 3 to 4 months since the jaw needs time to bond with the metal.
The Benefits of Implant-Retained Crowns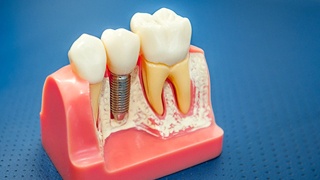 Improved Health: Without the need to make any alterations to your natural teeth, implants allow you to preserve enamel. They also prevent the bone loss that is a natural consequence of losing teeth.
Enhanced Appearance: With the implant post completely covered, all it takes is careful customization of your crown, and most people will never even realize that a tooth was ever missing to begin with.
Increased Confidence: When you can smile without embarrassment, speak clearly again, and chew all of your favorite foods without difficulty, your confidence tends to improve.
Longevity: Dental implants are very easy to maintain and can stay in your mouth for the rest of your life.
Are You a Candidate for Implant-Retained Crowns?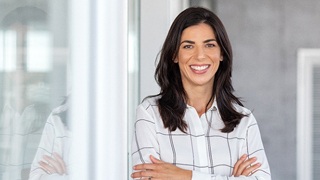 Most patients who have lost teeth are potential candidates for dental implants, but it takes careful examination to truly determine whether or not it's a viable option in your case. Dr. Amos will evaluate your oral health and look for signs of bone loss or gum disease that might complicate the procedure; these issues will need to be treated before the surgery is performed.